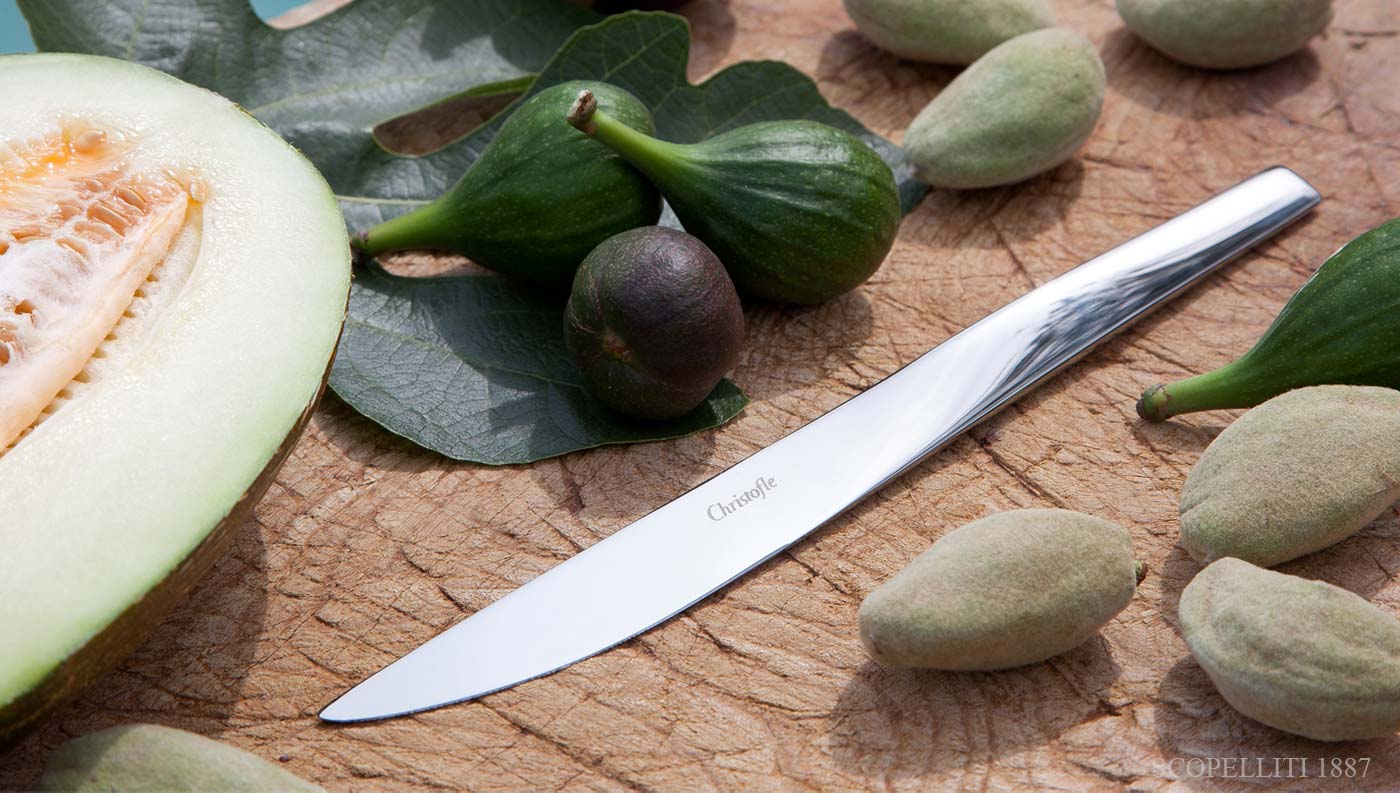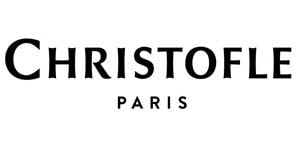 Authorized Christofle Dealer
"Simplicity is often the hallmark of beauty"
Based in France the Christofle brand has been mastering the art of silversmithing since its founding in 1830. Today Christofle is one of Europe's finest silverware houses and is celebrated for producing beautiful works of art that strike the perfect balance between classicism and modernity. Indeed almost two centuries of award-winning artisan experience is paired with daring contemporary design in collections and collaborations that represent the finest in hand-crafted and finished silver.
Artists and designers such as the Parisian silversmith Antoine Perrin, Man Ray, Jean Cocteau, Gio Ponti, Andrée Putman, Martin Szekely, Ito Morabito (Ora-Ïto), Xiao Hui Wang and Richard Hutten are among those whose creations have been made by Christofle.
Christofle 15.000,00

€

Christofle Wine Rolling Wagon
Dimension: L 110 cm, l 60 cm h 85 cm

Are you ready to have people over for Christmas? When your guests want a drink while celebrating Christmas with you, what better way to serve them a drink than with this beautiful wine cart from Christofle.
This rolling wine cart is made of solid beech and stainless steel with a drawer composed of two removable trays in stainless steel. Wine glass holders in stainless steel with a total capacity of 20 glasses. Six removable insulated wine coolers in stainless steel with double lining with air gap between linings.  A tiltable box for six bottles and possibility to reassort a wine cooler separately adjustable.
Christofle Flatware – Exceptional silversmith world since 1830
Founded in 1830, Christofle is the most renowned name in French flatware.  Whether contemporary or classic, whether its contours are rounded or architectural,  Christofle flatware is a luxury lifestyle brand manufactured to exacting standards. Every piece of Christofle flatware, produced at its workshops in Yainville in Normandy, must pass through 52 people, an impressive process known as "100 hands." The clientele can be confident that they are taking home pieces of outstanding quality that will be the delight and pride of generations to come. Each Christofle pattern and design has a fascinating story behind and an extremely rich heritage.
Christofle 5.850,00

€

– 25.940,00

€

Albi cutlery collection defies time and changing patterns with its straight and pure lines.
A true not too ornate classic to elegantly dress table settings.

Christofle 2.100,00

€

– 9.570,00

€

The "Jardin d'Eden" is an exclusive and luxurious silver dining collection where poetry is made real through the harnessing of the finest  creative pearls surfacing from the depths of design and silversmithing. Design Marcel Wanders.

Christofle 470,00

€

– 700,00

€

Christofle "L'âme de Christofle" stainless steel cutlery set.
L'âme de Christofle cutlery is made of polished stainless steel and designed to tantalise the modern aesthete.
A particular eye-catcher is the sharply contoured knife. The knife is so nice to hold that it becomes almost an extension of your hand.

Christofle 6.270,00

€

– 27.800,00

€

The success of Malmaison flatware derives from the fine chasing of the symmetrical design inspired by antiquity: a frieze of delicate stylized lotus flowers and fine tips of palm branches countering each single piece. There are also lotus leaves delicately engraved at the end of the cutlery handles and stylised lotus blossoms which rise from the middle of the dishes like sceptres or sculptures providing the crowning touch to any elegantly laid table.
According to Christofle, the relationship with the customer does not end with the sale, but it's the beginning of ongoing communication and interaction with product-use education at the core, so that people can fully enjoy the Christofle articles and share the precious moments the tantalizing flatware collections create with an interminable voyage into the past and into the future. Over time, the company has extended its strategy and line of offerings to attract and engage with new customers becoming the guarantor for stainless steel, silver plated and sterling silver cutlery of outstanding quality. And just like haute couture, Maison Christofle continues the tradition of the art of gold, creating handmade pieces with ancestral techniques such as turning, spinning, flattening and engraving. Indeed the flatware collections offer a choice of metals to satisfy the tastes of an ever changing clientele and offer different forms of combinations.
For any question you can write us an email at: shop@scopelliti1887.com or call us at the number: +39 0965 374441
Christofle maxim is "Only one quality: the best"
In its offer of jewellery, Christofle alludes to its roots as a jeweller when it started before 1830 with a single shop in Paris. True to its name as a silversmith most of the collections is in sterling silver 925. In 2015, some of its most popular designs have started to appear in gold and diamonds. The latter though are not yet available worldwide. For its collection Christofle has hired successful designers to transform silver into wearable pieces which easily take a woman from the boardroom to the ballroom. The Christofle collection reveals the most popular and iconic pieces.
All Christofle jewellery is sterling silver (92.5%).
If you regularly wear your Christofle jewellery, or if you store it in the anti-tarnish cloth pouches (supplied with every jewelry item), the need for care will be lessened.
If light tarnishing occurs, Christofle recommends the following products: For jewellery with a smooth surface: The silversmith's mitt or the chamois cloth is recommended.
For jewellery with links or decorated surfaces: Flashargent is recommended.
Do not dip clasps into flashargent as they may become damaged.
After use of each of these products, rinse items in clean water then dry with a soft cloth.
Christofle 290,00

€

Idole Sterling Silver Interlocking Rings Necklace. Gift box uncluded.
Material: Sterling Silver.
Dimensions: Adjustable chain of 38, 40 and 42 cm.

The Idole Sterling Silver Interlocking Rings Necklace features two sensual and delicate intertwined circles placed at the centre of an adjustable chain that allows the necklace to be worn at three different lengths beautifying a woman's neckline according to the occasion. This necklace has a lobster claw clasp.

Christofle 990,00

€

Idole Sterling Silver Multi-Ring Layering Necklace by Christofle. Gift box included.
Chain length: 97 cm.

The Idole Multi-Ring Layering Necklace includes multiple rings of varying sizes on a Sterling Silver chain that looks lovely on its own. Otherwise build your own layered look with a cascading effect and make a statement with your Christofle Maison Jewellery.

Christofle 1.400,00

€

Madison Style Sterling Silver Multi-Chain Lariat Necklace by Christofle. Gift box included.

The Madison Style dazzling Lariat Necklace is the easiest way of elevating a low neckline with the multiple strand chain delicately brushing past the collarbone and coming together with the help of a sterling bead to form a tassel that sways sensually down the décolleté.

Christofle 290,00

€

Pliage Sterling Silver Pendant Necklace by Christofle. Gift box included.

The Pliage Sterling Silver pendant necklace features two interlocking rectangular bands which create tantalizing skin exposing voids. The Pliage Christofle Maison Pendant hangs from a modern almost utilitarian chain.
The story of the famous French firm, whose name evokes the elegance of bygone days and the innovative design of modern times, started in 1830 with Charles Christofle. Charles the humble son of a silk merchant managed to transform a small Parisian jeweller workshop into an international enterprise. Rare materials were crafted into stunning shapes producing generation after generation "Precious Living Treasures".
During the time of Emperor Napoleon III, Charles Christofle earned the title 'Fournisseur de l'Etat' and decorated places like the Elysée Palace, the Tuileries Palace and the Chateaux Compiègne and Saint-Cloud. He became the country's first official exporter and was also the first person to stamp the company signature on his products. Indeed the stylized coat of arms and logo added an exclusive and recognizable elegant touch to each item and built the confidence and loyalty in clients. Once he gained important commissions from Emperor Napoleon III of France, Sultan Abdulaziz of the Ottoman Empire and later Maximilian of Mexico soon aristocracy and bourgeoisie became avid consumers of Christofle Tableware. His most brilliant move was to gain between 1842 and 1844 the patents of an electrolytic technique and a new moulding technique necessary to build a technologically advanced manufacturing plant for plated goods. He also understood the importance of employing not only skilled craftsmen but also talented artists, designers and sculptors throughout the different historical phase so as to keep up with the revolutionizing of styles and tastes. Soon the silver plated items were flanked by solid silver ware and still today adorn our elegant table tops.
The Christofle  tradition was carried on by Charles' Christofle son Paul and  his nephew Henri Bouilhet who created together fine works in Second Empire, Japanesque, Orientalist, Rococo Revival and Art Nouveau Styles. One of their greatest innovation was the creation of the Christofle Gallia Line with the use of a new alloy, similar to pewter but more resistant, suitable for casting and less expensive to manufacture and plate.
After the devastating political and economic effects of the Post World War I Tony Bouilhet, great-grandnephew of Charles, inherited the reins of the business in 1932 and together with his wife, Carla Borletti, and her wealthy Milanese industrialist family they re-launched the Christofle Maison. Once again the importance of commissioning designs from some of the most gifted designers, artists and architects of the 20th century was paramount to Christofle's silverware project.
"UNFOLDING SYMBOL OF SILVERSMITH LUXURY AND ELEGANCE FOR CENTURIES"
Today Christofle is in the hands of the family's fifth generation, purveyors of fine design and superior quality elegant tableware. Christofle's product lines include silver picture frames, crystal vases and glassware, porcelain dinnerware, silver jewelry, holloware and sterling silver flatware. Christofle equipped the Ritz in 1898, the Normandy transatlantic steamship in 1935 and in 1970 it supplied all the silverware for France's presidential jet. Meanwhile, the company participated in all of the world's major arts and decoration fairs including ground-breaking international fairs in Paris, London, Vienna and Chicago. Many Christofle creations, all considered to be objects of fine art, are now on show in decorative arts museums across the world: Paris, London, Berlin, New York, Saint-Petersburg.
Christofle sells its high end tableware worldwide through 75 Pavillon Christofle retail stores and over 400 department stores and specialty shops.
The Christofle company is now chaired by Maurizio Borletti of the family's Italian wing. But in principle nothing has changed. The company continues to create for its clients a wide variety of products from gold and silver tableware and dining table accessories to decorative pieces of silver, crystal and porcelain. For those who want something even more special, the company has developed the first Haute Orfevrerie collection, the synonym for Haute-Couture in the dictionary of silverware.
The story of Christofle's achievements continues to unfold.