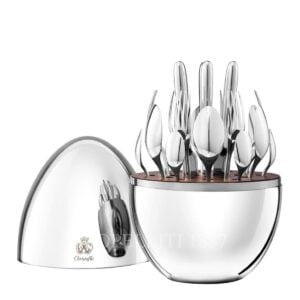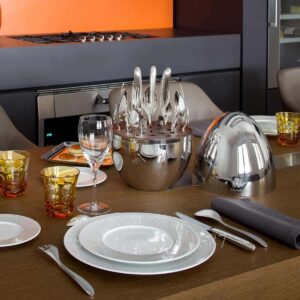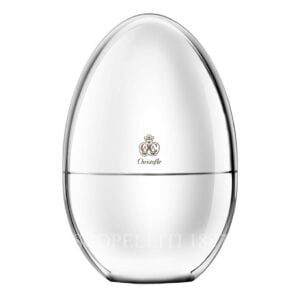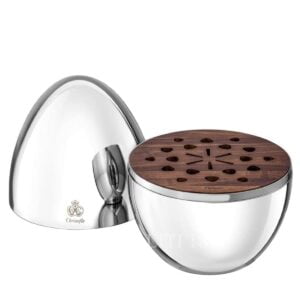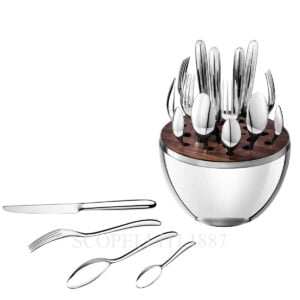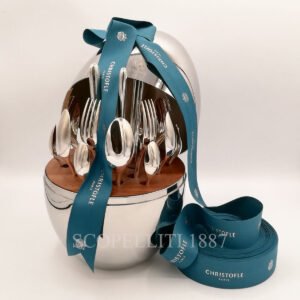 Christofle Mood 24 pcs Silver Plated Flatware Set
1.880,00€
Use the coupon code: CHRISTGIFT to get 20 % OFF
Christofle Mood 24 pcs Cutlery Set Silver Plated with Storage Capsule – For Six People. Gift box included.
The set contains:
6 dinner forks
6 table spoons
6 dinner knives
6 coffee/tea spoons
Storage egg shape design capsule
In stock
Same day shipping
Christofle Mood 24 pcs cutlery with capsule features an eye catching design which shakes up two centuries of traditional silverware table setting codes offering a practical usage for its 24 Silver Plated cutlery items.
Product characteristics:
h 30 cm, ø 20 cm
Silverplated cutlery, stainless steel egg shape case with walnut wood inlay
Cutlery dishwasher safe
The Christofle decorative egg case is plated in precious metal and lined in rosewood. The compact polished shape is a streamlined, contemporary and universal statement which brings to the refined table both the promise of conviviality and moments to remember.
The outer storage capsule with its avant-garde vision is enriched by the engraved Christofle coat of arms and logo: a new and bold manner of living luxury in everyday life bringing brightness to kitchens or living-rooms.
Christofle, the Maison that stands for excellence in silversmithing, offers in MOOD By Christofle an avant-garde vision of relaxed entertaining that remains both elegant and refined.
You may also like…
Mood 650,00

€

Use the coupon code: CHRISTGIFT to get 20 % OFF

Christofle Mood Coffee Precious espresso spoons, set of 6 in egg case, gilded with 18-carat pink gold. Gift box included.

In the elegant high-gloss stainless steel container is a six-piece espresso spoon set from Christofle. The "Mood" espresso spoons from Christofle are gilded with 18-carat pink gold and can be securely stored in the walnut wood insert. The circular opening in the centre is conceived, for instance, for small sugar sachets.