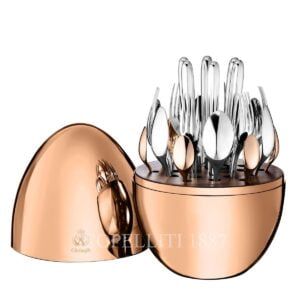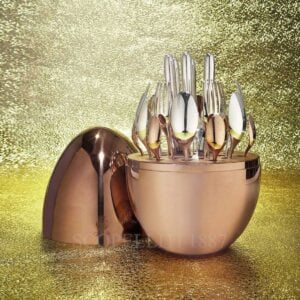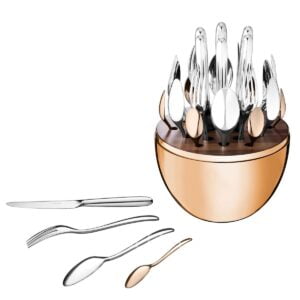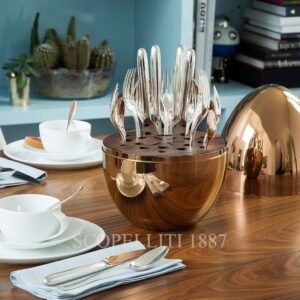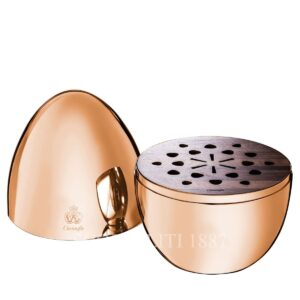 Christofle Mood 24-Piece Precious Flatware Set
Christofle Mood 24-Piece Silver Plated Flatware Set with copper-coloured Egg Case – For Six People
This design egg from Christofle is like a surprise egg. In the chic, gleaming receptacle of copper-coloured stainless steel is a 24-piece cutlery set from Christofle. Christofle's "Mood" cutlery is silverplated and its pleasingly shaped handles feel very comfortable to hold. The coffee spoon is particularly eye-catching as it is extra refined with 18-carat pink gold.
Available on back-order
Note that delivery before Christmas is not guaranteed. Please, check only prompt delivery items.

Discover our current promotions - Ask Danka

+39 391.345.6441
Product characteristics:
h 30 cm, ø 20 cm
Silverplated knives, forks and soup spoons, the coffee spoons are silverplated and refined with pink gold (18-carat), copper-coloured stainless steel egg case with walnut wood inlay
Cutlery dishwasher safe read more...
The Christofle cutlery set consists of: 6 standard knives, 6 standard forks, 6 standard soup spoons and 6 coffee spoons. The cutlery, held firmly in place inside the case by a walnut wooden disk, can be put in the dishwasher.
The Christofle decorative egg case, plated in precious metal is reminiscent of a Fabergè Egg. The compact polished shape is a streamlined, contemporary and universal statement which brings to the refined table both the promise of conviviality and moments to remember.
The outer storage capsule with its avant-garde vision is enriched by the engraved Christofle coat of arms and logo: a new and bold manner of living luxury in everyday life bringing brightness to kitchens or living-rooms.
Christofle, the Maison that stands for excellence in silversmithing, offers in MOOD By Christofle an avant-garde vision of relaxed entertaining that remains both elegant and refined.
You may also like…
Christofle

Christofle Mood Coffee Precious espresso spoons, set of 6 in egg case, gilded with 18-carat pink gold. Gift box included.

In the elegant high-gloss stainless steel container is a six-piece espresso spoon set from Christofle. The "Mood" espresso spoons from Christofle are gilded with 18-carat pink gold and can be securely stored in the walnut wood insert. The circular opening in the centre is conceived, for instance, for small sugar sachets.