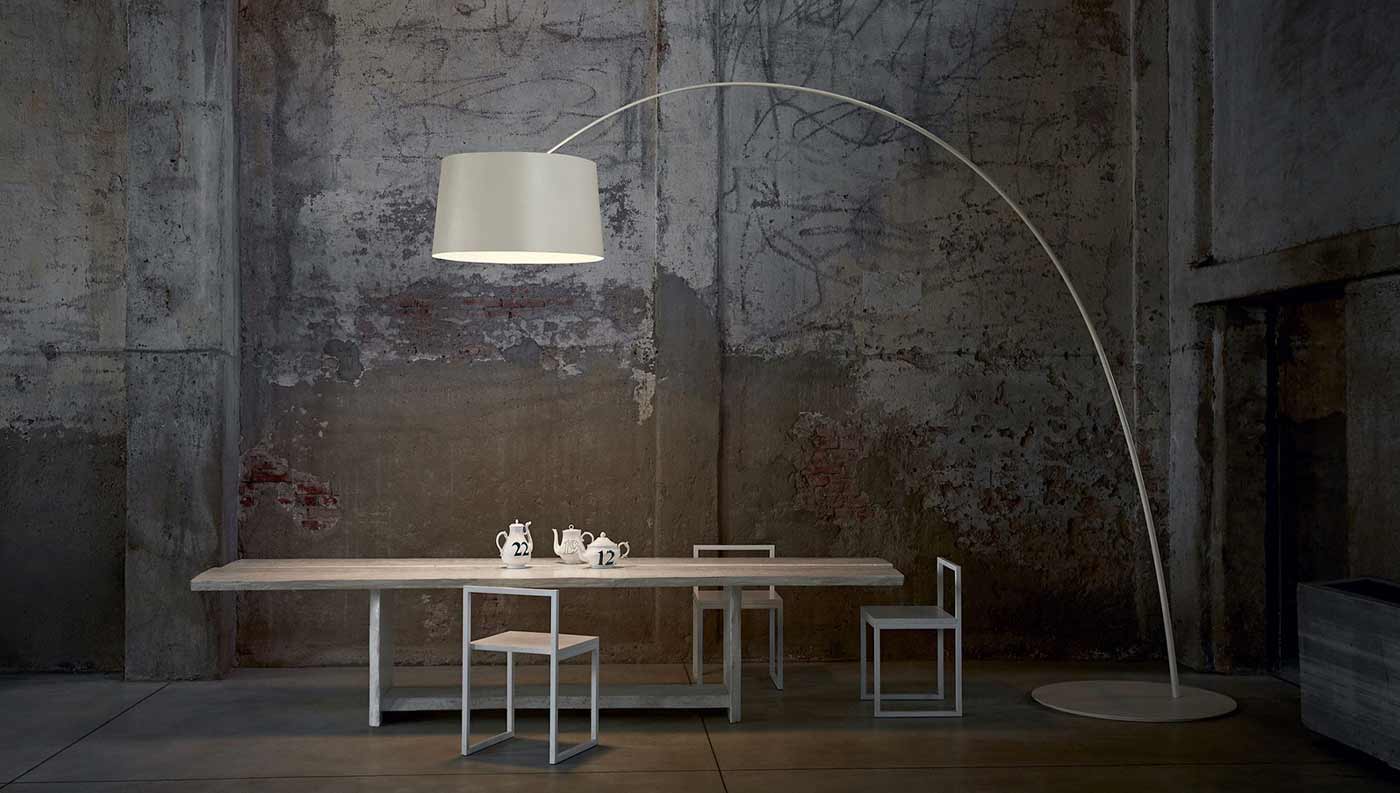 Authorized Foscarini Dealer
"Foscarini is an outstanding example of constantly developing creativity. Imagination, design and mastery not only devise and shape lamps but stir deep emotions, seduce and inspire.
33 designers, 20 materials, 46 finishes, 31 colours"
What kind of lamp are you looking for?
Among the home light fittings, floor lamps cast an eclectic and personalized look on the design scene of your domestic or collective spaces. The Foscarini free standing luminaires are designed to shape the character of your living environment without occupying too much space. Some of the Foscarini models have become true world design icons. For example the Mite floor lamp, a combination of fibre glass and black carbon fibre, or yellow Kevlar fibre, catches the attention thanks to its essential, slinky silhouette, adding a discreet touch of elegance both around the home and to work environments, in spite of its stately size. While the Twiggy slim threadlike carbon fibre floor lamps evoke an outstanding resemblance with stalks of daffodils and offer a perfect synthesis of functionality, ergonomics and aesthetic sensitivity.
Behind all Foscarini creations, in addition to the technical and theoretical skills that distinguish them, there is also a philosophical idea founded on a combination of innovation, research and experimentation. Foscarini is the constant quest for clean forms and lines inspired by the real world around us, which Foscarini Designers succeed in reinterpreting in an unusual and subjective way, without losing sight of the work's practical functionality. This is Foscarini Lighting ready to surprise you at every "switching on".
Foscarini

€

620,00

Foscarini Caboche Table Lamp Gold
Material:
Polymethylmethacrylate, blown glass, chromed metal and varnished aluminium
Light Source:
LED retrofit, Halo 1x 48W G9 read more...


Like a bracelet of sparkling transparent pearls, supported by an elegant and light-weight base, the Caboche table lamp embellishes any setting.
Table or oor lamp with diused and direct light. Satin nish blown glass internal diuser, satin nish opaline glass lower screen. External diuser consisting of a crown of polycarbonate arches secured to a chromed metal mount and PMMA spheres. Base and rods in powder coated die cast aluminium. On/o switch on the black cable.
Rich, bright and sophisticated, the Caboche lamp is a mosaic of refractions, a perfect fusion of dierent personalities in the one form, coming together to create the body and light eect of the lamp. When it is turned on, the light diuses from inside the spheres like lots of bright crystals, providing 360° lighting of the surrounding environment and guaranteeing an illuminated underlying surface. Caboche table is a small jewel of creativity and technology, available in two versions: transparent and yellow gold. The original design of the stem is created by the three supports that join together to form the round base, recalling the spherical form of the diuser, and thus guaranteeing a combination of coherence, originality and lightness. Caboche is the perfect protagonist for homes or public areas, uniting visual impact with lightness, decorative value and functionality.
Foscarini Pendant Lamps furnish the home with a unique and recognisable style. The slim and pure nature of their lines blend harmoniously with the interior furnishing providing both a functional and aesthetic appeal. Noteworthy are the Aplomb Concrete and Steel Pendant Lamps with their distinct urban feel, the iconic Caboche lamps with their rich elegance, the versatile Gregg lamps with their glass blown spheres, the hanging Rituals e Tress lamps with their original design and last but not least the Spokes pendant collection with their artistic and poetic orientated vision.
Foscarini

€

564,00

Behive Suspension Lamp by Foscarini
Material: Batch-dyed ABS, polycarbonate and varnished metal

Light is the decoration in the Behive suspension lamp: it defines its body and traces its graphics, animating it and bringing it to life. When it is switched off, it resembles a stylish modern sculpture, yet when it is switched on, it produces a magical luminous atmosphere.