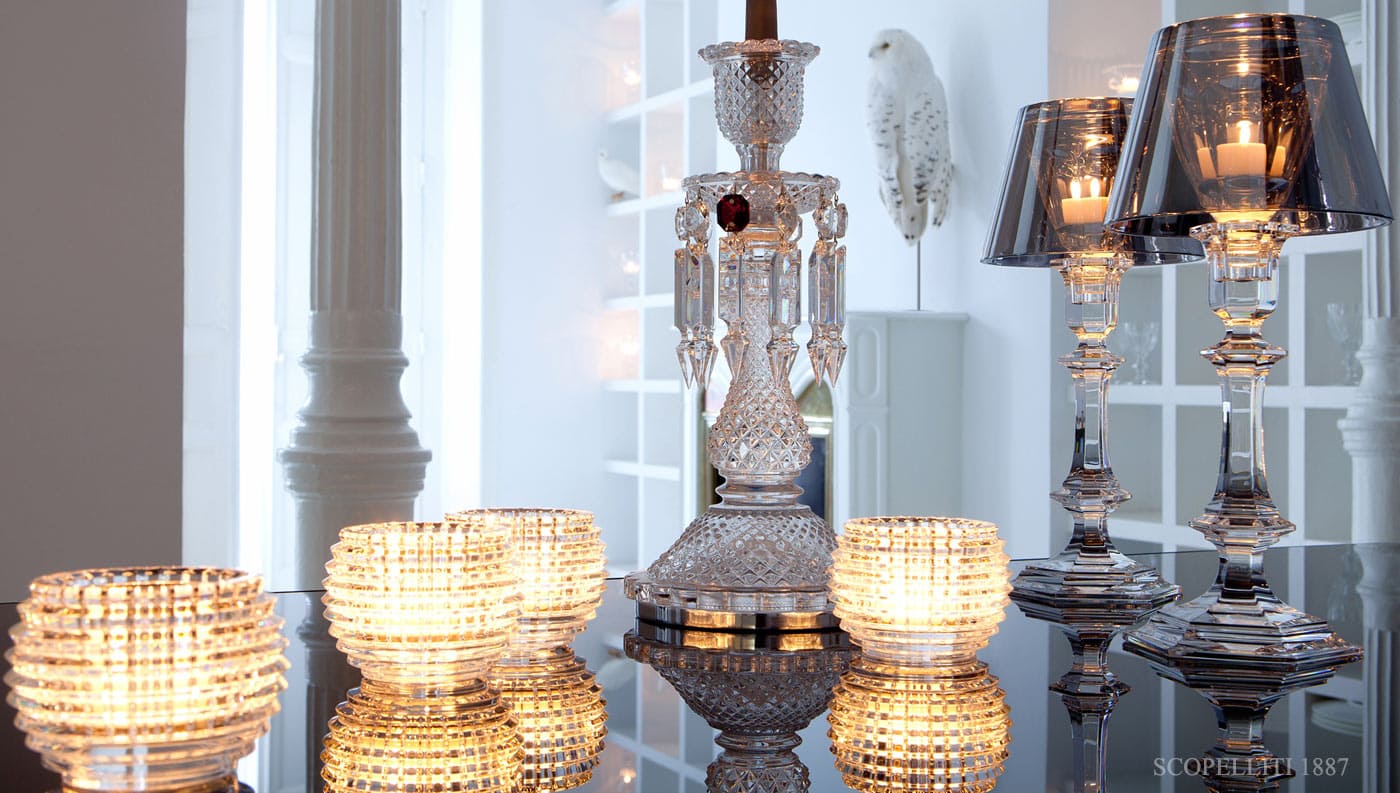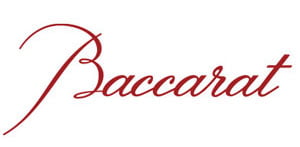 Baccarat Crystal Authorized Retailer
"A lifestyle brand where crystal clear quality remains the essence"
The Baccarat crystal clients are people who are becoming more sophisticated and do not buy luxury glassware products just because they are expensive and a status symbol but because they really appreciate the sophistication and savoir-faire behind the quality and heritage. The heritage is not seen as a burden, but people are looking for genuine and authentic luxury.
It is timeless and has always been in fashion with its crystal stemware, barware, candelabras, perfume bottles, jewellery and chandeliers thanks to the creations of great artists inspired by the magic of crystal.
The Mille Nuits collection is the fascinating brainchild of charmer Mathias who started working with Baccarat, in 1995. In this collection you can discover the fascinating and faraway tales of The Thousand and One Arabian Nights. The fine-lined cuttings bring to mind the sumptuous glittering of light and magnificent twinkling of stars reproducing a truly sensual journey.
According to Mathias Creation is not permanent it is an act of generosity where the object created is passed onto others. True Creation is a little maternal, it brings to life, it simmers it and then it revives with others.
Mille Nuits

$

986,12

Baccarat crystal Mille Nuits centerpiece with gift box.
Size: Height 30,7 cm – Width 26 cm.

The Mille Nuits three-level pastry stand, designed by Mathias for Baccarat, is a charming centrepiece. read more...

The three decorative crystal plates, with their artfully crimped edges like a hand-sculpted pate brisée, and the varnished silver-plated metal stand are both elegant and functional. The detailing etched into the underside of each Mille Nuits plate yields stunning optical effects. The lines irradiating from the centre of each plate highlight the prismatic possibilities of the Baccarat crystal diffusing the light in nuanced ripples, evoking sumptuous glittering and the magnificent twinkling of stars. Indeed Mille Nuits is a reference to the 1001 Tales of The Arabian Nights and evokes the magical and charmed Oriental Mediterranean universe with its Baroque and Venetian style.
The Baccarat Clear crystal Arabesque collection has a great variety of detailing that accentuates the striking artistry of Baccarat's savoir-faire. An intricate garland of geometric swirls, embellished with stars and acanthus leaves, creates a wreath along the outer part of the plate hemming in the clear crystal crosshatching that decorates the central part. The tantalizing mesh like design with its multiple diamond points delicately embraces the central star.
Arabesque

$

432,19

Baccarat Arabesque Dessert Set consists of 6 small bowls in crystal. Gift box included.
Height: 6 cm
Diameter: 12 cm

Originally created in 1830, Baccarat's highly detailed Arabesque pattern was inspired by Islamic art. The Baccarat clear crystal Arabesque bowl features a graceful motif with a great variety of detailing accentuating the remarkable artistry of Baccarat's savoir-faire.
Today the crystal creations  have branched into many fields  dressing the most prestigious  tables and lighting up the décor of the world's most beautiful hotels and restaurants, private residences, yachts and jets. The commercial spaces with their boutiques or showrooms are dressed with its brilliance—offering a unique experience to customers and visitors.
Many are the designers who have made all this possible: Philippe Starck, Arik Levy, Aude Lechère, Eriko Horiko, Jaime Hayon, Jean Marc Gady, Marcel Wanders, Mathias, Michele de Lucchi, Moatti & Rivière, Noé Duchaufour-Lawrance, Patricia Urquiola, Savinel & Rozé, Thomas Bastide, Robert Rigot, Vicente Wolf and Yann Kersalé just to mention a few.
Baccarat

$

9.617,73

Blown Baccarat crystal Greyhound Dog Sculpture. Design Robert Rigot.
1 pc – 22 cm x 20,5 cm h 54 cm (8.66″L x 8.1″W x 21.25″H)
Weight of crystal block 15 kg

Baccarat

$

1.205,26

Harcourt our Fire Candlestick by Baccarat with gift box. Silver finish.
Height 32,5 cm / H 12.8″

Designed by Philippe Starck, the all-crystal « Our Fire » candleholder, inspired by the celebrated Harcourt set, has become one of Baccarat's iconic creations.

Baccarat

$

1.205,26

Blown Baccarat crystal Woman Sculpture.
Design Robert Rigot.
1 pc – 9 cm x 7 cm h 26 cm (3.54″L x 2.75″W x 10.23″H)
Weight of crystal block 2,6 kg

Cut in a block of crystal by the artisans from Baccarat, the abstract profile of the character takes shape and brings out the eyes, nose and lips on the verge of touching. Used with the complementary sculpture as book-ends, the pair are separated (this is onlu Woman sculpture), but still love one another from afar… read more...

Clear crystal sculptures of 26 cm Design by Robert Rigot, his talents is recognized both in France and abroad, both by collectors but also by museums like the Museum of Modern Art in Paris. Very stylized and figurative vision of the woman and the man. Can be used both as a decorative object and as a bookends. Develop our gift and office product Ideal gift for a couple: possibility to assemble the man and the woman or twice the same. Original bookends. The prism shape is ideal for catching light. A man and a woman, a couple about to exchange a kiss. Robert Rigot has taken a new look at the universal theme of love and designed two complementary sculptures for Baccarat.

Baccarat

$

1.460,92

Baccarat Zoo Elephant Sculpture. Gift box included.

Height 10.2 in
Numbered Edition
Designer JAIME HAYON
Baccarat has often been described as a sleeping beauty. The will today is to broaden the scope and wake up the sleeping beauty enhancing its allure and shine to even higher levels among younger generations too, who paradoxically appreciate the heritage collections and vintage pieces most of all.
So, with modern bevel cuts conjuring perpetual movement, with its diamond cuts and vertical lines or with flat cuts in clear crystal creating a seductive visual effect, Baccarat crystal vases are spring of light. Their fabrication produces a multitude of shades and shapes leaving scope for an infinite number of compositions for every taste.
Baccarat

$

718,29

Baccarat crystal rectangular Eye vase with gift box.
Size: Height 20 cm

The Baccarat Crystal masterpieces symbolize the exception, the excellence but also innovation and luxury.

Baccarat

$

10.956,90

Baccarat crystal Peacock vase with gold. Gift box and certificate included. Size: Height : 30 cm Length : 57 cm Width : 12 cm Limited edition only 100 pieces. Gingko Paon vase represents a peacock drawned thanks to the sanding technique with gilding. The liquid gold 20 carats (833/1000) is applied by hand by gilders in the Manufacture. Its shimmering feathers fascinates Humans. He represents peace, prosperity and beauty in China; immortality and fertility in India; resurgence and revival in the West.

Baccarat

$

2.556,61

Special offer, limited time only, use the coupon code BACCARAT20 during checkout and receive a 20% discount

Baccarat crystal Harcourt Baluster vase with red gift box.
Size: Height 31.5 cm

The Harcourt baluster vase features an amphora shape in clear crystal with flat cuts, a double button and a round base and a beautiful bold rolled rim.

Baccarat

$

1.826,15

Baccarat crystal Octagone red vase with red gift box. Height 25 cm The signature of all Baccarat chandeliers, the octagonal tassel is here transformed into a red crystal vase, the signature colour of Baccarat obtained with pure gold.
Shopping for a man can be a tricky task. Even though "traditional" men's gift, like a neck tie or a wallet, seem like the safe way to go, in reality, men have a large variety of tastes and those "safe" gifts rarely get real use. Baccarat managed to create a selection of items that are sure to be appriciated, and most importantly used by, the man you wish to bestow with these elegant gifts. The collections of crystal glasses the Baccarat offers are the perfect gift for the man who cares about his drink as much as he cares about the glass it is served in.
Baccarat

$

462,62

Baccarat crystal 4 Elements tumblers set with gift box.
Size: Height 10,5 cm, Ø 8,2 cm, cont 35 cl

The Set-of-Four Element Crystal Glasses by Baccarat is rendered in expertly hand-sculptured crystal and features four cocktail tumblers as served exclusively at the Baccarat Hotel in New York.

Baccarat

$

511,32

Baccarat Set of six crystal highball Everyday with red gift box.

Perfect at any time of day to savour your drink of choice this set of 6 Double Old Fashioned glasses from Baccarat will bring classic style to the table and will have you quench your thirst in utter luxury.

Baccarat

$

474,80

Baccarat set of six crystal tumbler Everyday with red gift box.

Baccarat's 'Everyday' tumbler set is a melding of glittered elegance and avant-garde design with its streamlined detail and modern silhouette. It includes six different tumbler glasses, all crafted with individual patterns for an unparalleled drinking experience.

Mille Nuits

$

182,62

Baccarat crystal Mille Nuits set of two tumblers with red gift box.
Size: Height 8,5 cm –  Capacity 20 cl

The Mille Nuits tumbler glasses come in a set of two. They feature subtly alternating clear crystal stripes, that traveling the length of the glass, highlight Baccarat's painstaking craftsmanship.
A lucky charm for collectors, the crystal butterfly with its crystal wings lights up any room with a delicate presence expressing energy and lightness. The enchanted fairy tale insect is poised to flutter off, while glinting vibrantly. The wings fan out grandly, echoing the iconic shape of the Amazonian breed.
The poetic contours highlight Baccarat's signature craftsmanship. Placed anywhere in the home, the crystal Lucky Butterfly elicits a sense of momentum and graceful sensation.
Baccarat

$

170,44

Baccarat crystal amber porte-bonheur Butterfly with gift box.

A lucky charm for collectors, the Baccarat crystal butterfly glitters with its bright amber wings.

Baccarat

$

194,79

Baccarat crystal diamond porte-bonheur Butterfly with gift box.

A lucky charm for collectors, the Baccarat crystal butterfly glitters with its bright wings adorned by the pointed diamond cut details.

Baccarat

$

243,49

Baccarat crystal golden porte-bonheur Butterfly with gift box.

A lucky charm for collectors, the Baccarat crystal butterfly glitters with its bright golden wings.

Baccarat

$

170,44

Baccarat crystal peony pink porte-bonheur "Butterfly" with gift box.

A lucky charm for collectors, the Baccarat crystal butterfly glitters with its bright peony pink wings.
Stunning collectible sculptures with both a true artistic value and a genuine craftsmanship. Baccarat pieces are very sought after by sculptures collectors. A refined gift for any occasion.
Baccarat

$

3.287,07

Baccarat Guepard Sculpture. Gift box included.

This alert cheetah with a remarkable posture is made from clear crystal, for major animal art collectors.

Baccarat

$

2.556,61

Baccarat Imperator Crystal Eagle Sculpture. Gift box included.

Baccarat

$

3.895,79

The legendary horse was the favourite mount of Napoleon Bonaparte. Given new interpretation in midnight crystal by Baccarat, the rearing animal is sculpted in an impressive posture. Gift box included.

Baccarat

$

2.069,64

The panther is a solitary and steadfast hunter. Known for its effortless adaptability and acute senses, the wild animal stalks its prey with great agility. Gift box included.