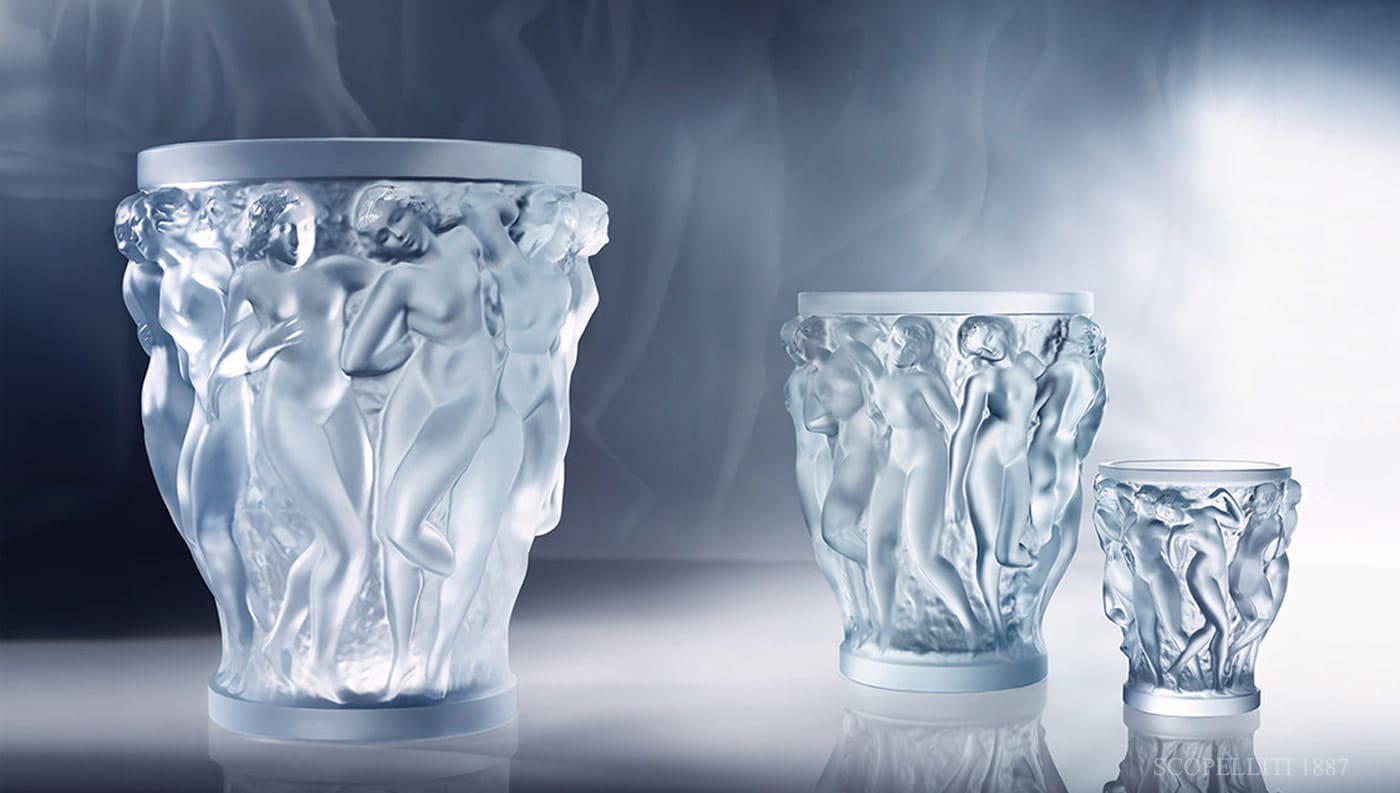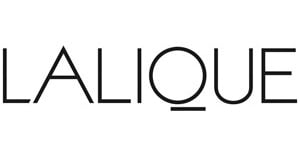 Lalique Vases –  Authorized Retailer
"Crystal Lalique, the ultimate symbol of french luxury."
A renowned name during the Art Deco movement, Lalique has continued to create exquisite crystal pieces for modern times. In 1926, Rene Lalique began manufacturing satin-finished vases, bowls, and statuettes. Today, his fine tradition endures with themes ranging from classical forms to ultramodern designs.
The name Lalique still evokes transparency, enchantment and French refinement. Its new techniques and new materials evolving in an extensive iconographic repertoire. Its astounding work that rivals inventiveness and audacity made him the creator of modern jewellery and decoration.

Lalique Crystal Collections:
The venereal and sinuous curves of Lalique's hand-made female nudes enchant the gaze of the observer. A magnetic, almost mythological hypnosis, resulting from the particular light reflected by satin crystal, in some way seems to retain within itself without revealing it immediately. Abandoned to emotions, the female Lalique figures, like goddesses, do not reproduce habitual gestures, but open the doors to the world of feelings, moods, sensations that inhabit the unconscious. Like the Bacchantes of the stories of Ancient Greece, the female figures of the Lalique crystal creations are bearers of emotional chaos, through the continuous and immortal refraction of light on the hand-made cutouts by the Lalique masters.
It is difficult to resist the feline elegance of the Lalique panthers that thanks to the subtle silhouette and the tactical pose, as they are going to attack the prey in a crystal forest, manages to enhance the powerful musculature and the brilliance of the bright spots on the coat. Power and Grace coexist harmoniously in both the Black and Clear versions. Elements of immense beauty and refinement, the Lalique panthers are the undisputed queens among the animal figures made by the master craftsmen who modeled them giving them new life.
Lalique

$

239,33

This sculpture in satin-finished crystal beautifully embodies the feminine body's serene, graceful and sensual movements.
Clear crystal
Dimensions: H 7,2 cm x L 9,4 cm x W 4 cm ( H 2.83″ x L 3.70″ x W 1.57″)
Weight: 0.25 kg (0.55 lbs)
Handcrafted in France
Lalique creations evolve by depicting natural elements, animals and female nudes, and also accompany the figures to interact with each other thanks to the collection of vases, where the shapes are contaminated, the actions come together, the crystal shines. Water lilies dancing among effervescent waters, horses galloping towards freedom, in a whirlwind of flowing foliage and bright details. Lalique vases offer tales of distant myths and desires of voluptuousness. Thanks to the skill of the Lalique craftsmen, crystal becomes a conductor of light energy managing to interact positively with the surrounding environment, recreating sublime and luxurious atmospheres.
Lalique

$

4.848,06

Lalique Bacchantes Vase Numbered Edition Amber
Amber crystal
Dimensions: H 9.45″ x D 8.5″ (H 24 cm x D 21,6 cm)
Weight: 14.29 lbs (6,48 kg)
Numbered edition, piece delivered with a certificate of authenticity mentioning its number.
Handcrafted in France

Lalique

$

760,96

A herd of wild horses gallops over this vase, their flowing manes reveal the true extent of their freedom.

Clear crystal
Dimensions: H 7.01″ x D 4.69″ (H 17,8 cm x D 11,9 cm)
Weight: 2.95 lbs (1,34 kg)
Handcrafted in France

Lalique

$

257,74

Quintessentially Lalique, this petite vase features a twirling dance of dew drops and nymphs.
Clear crystal
Dimensions: H 5.51″ x D 2.99″ (H 14 cm x D 7,6 cm)
Weight: 0.68 lbs (0,31 kg)
Handcrafted in France
Lalique centerpieces are hand-made from magical crystal that has always made us fall in love with. This cold and luminous material fit to any environment and for all occasions, so it is really a perfect luxury gift. Lalique hand-made and mouth-blown centerpieces represent the highest artisan art. Lalique centerpieces recall the floral and female figures, protagonists of the other Lalique creations, obviously shaped on a different bases. Wider lines and a greater refraction radius make Lalique centerpieces a source of light and beauty.
Lalique

$

3.068,39

This emblematic artwork was designed in 1951 by Marc Lalique.
Clear crystal
Dimensions: H 19 cm x L 46 cm x W 19 cm (H 7.48″ x L 18.11″ x W 7.48″)
Weight: 7,50 kg (16.53 lbs)
Handcrafted in France

Lalique

$

10.187,06

This iconic artwork is now issued in a grand and small version. One of the grand versions is transformed by the manufacturing technique of double gathering.

Gold luster crystal
Dimensions:H 23 cm x L 60 cm x W 34 cm (H 9.06″ x L 23.62″ x W 13.39″ )
Weight: 12.5 kg (27.56 lbs)
Handcrafted in France

Lalique

$

2.086,51

Designed by René Lalique, 1941

Clear crystal
Dimensions: H 6,5 cm x D 36 cm (H 2.56″ x D 14.17″)
Weight: 4,47 kg (9.85 lbs)
Handcrafted in France

Lalique

$

1.472,83

The raised design is enhanced by the magnifying effect of the crystal and can be seen perfectly on the outside as well as on the inside of the bowl.

Clear crystal
Dimensions: H 8 cm x L 24,5 cm x W 24,5 cm (H 3.15″ x L 9.65″ x W 9.65)
Weight: 2.61 kg (9.85 lbs)
Handcrafted in France
Looking for an elegant gift idea for a woman? Lalique is very exclusive choice. Its crystal collections include jewellery that fit the needs of very special woman. Lalique crystal is one of the finest materials to work with as it possesses timeless charm. It is always in vogue. Lalique crystal jewelry pieces (earrings, rings, bracelets and necklaces) make a wonderful luxury gift.
The iconic Arethuse collection is available in Lalique's trademark graphic black and white, in a sunny gold-stamped version or in a chic black and red. A Lalique must-have.
"I never hated a man enough to give him jewels back."
Lalique

$

797,78

Clear Crystal, Vermail

Lacquer: 1.5 grams
Vermeil: 41.5 grams
Wrist size: 16.5 to 18 cm

Lalique

$

368,21

Clear Crystal, Vermeil, Pin Clasp System (Also available as Clip on)
2 Clear Crystals: 6.6 grams
4 Turquoises Pearls: 3.0 grams
Lacquer <0.1 grams
Vermeil, average weight: 9.5 grams
Total length: 5 cm

Also available in Clip clasp system
If you want to purchase the clip clasp system, please mention it on the notes during checkout.

Lalique

$

0,00

Pendant in silver, motif in clear and black lacquer.

Clear Crystal: 1.6 gram
Lacquer: 0.8 gram
Motif length: 2.2 cm
Sterling silver: 8 grams
Black cord 85 cm (adjustable)

Lalique

$

478,67

Motifs in pearly clear crystal: 2.50 grams
Vermeil, average weight : 8.10 grams
Diameter of the motive: 2 cm
Bracelet length: 17 cm