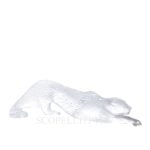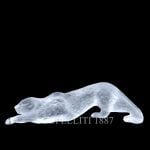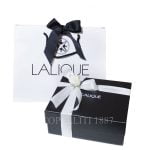 Lalique Zeila Panther Small Sculpture Clear
$ 417,16
Lalique Zeila Panther Figure Clear. Gift box included.
Clear crystal
Dimensions: H 2.44″ x L 8.27″ x W 1.77″ (H 6,2 cm x L 21 cm x l 4,5 cm)
Weight: 1.15 lbs (0,52 kg)
Handcrafted in France
Same day delivery
Same day delivery

Discover our current promotions - Ask Danka

+39 391.345.6441
The store is currently closed, Danka will answer your queries within the next 12 hours.
Designed by Marie-Claude Lalique, the Zeila Panther embodies the strength and grace of a large attacking feline. Through its design, the Panther's powerful muscles are evident under its crystal fur and numerous spots.
Exceptional details and meticulous craftsmanship make this collectible a captivating object d'art.