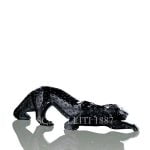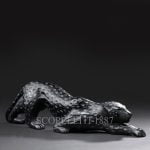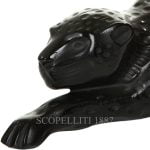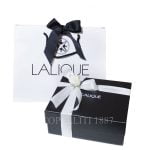 Lalique Zeila Panther Large Sculpture Black
€ 1.590,00
Nimble and sensual, she approaches stealthily, preparing for her attack. Her slim silhouette is enhanced by powerful muscles covered with crystal fur sculpted by thousands of luminous spots. Designed by Marie-Claude Lalique, the Zeila Panther embodies the feline strength and grace.
Black crystal
Dimensions: H 4.33″ x L 14.37″ x W 2.95″ (H 11 cm x L 36,5 cm x W 7,5 cm)
Weight: 5.73 lbs (2,60 kg)
Handcrafted in France
Available on backorder
approx. 1 - 4 weeks delivery time

Discover our current promotions - Ask Danka

+39 391.345.6441
The store is currently closed, Danka will answer your queries within the next 12 hours.
Bring timeless art into your home with this Zelia black panther crystal ornament from Lalique. Meticulously created in Alsace, France, every step is crafted by hand from the initial gathering of the crystal to the final sculpting, all completed by the very best artisans. Beautifully detailed, this elegant leopard ornament features all over spots and smooth curved lines. Presented in a beautiful Lalique gift box this crystal sculpture will make a timeless gift idea for any special occasion.
Exceptional details and meticulous craftsmanship make this collectible a captivating object d'art.