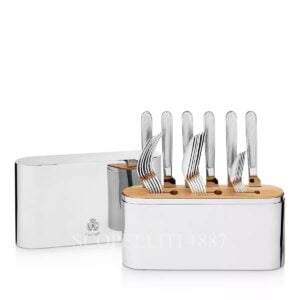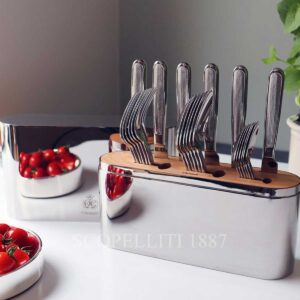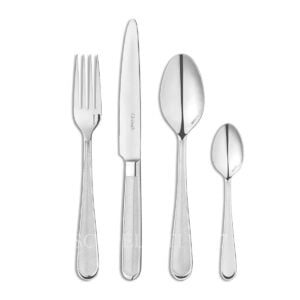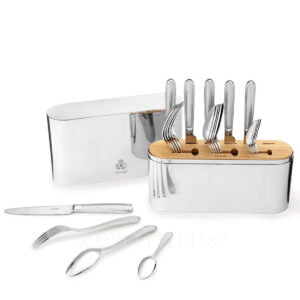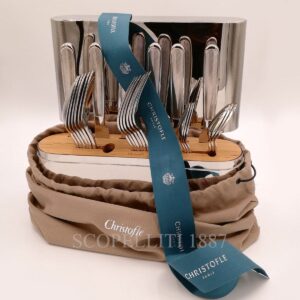 Christofle Concorde Cutlery Set 24 pcs Stainless Steel
850,00€
Use the coupon code: CHRISTGIFT to get 20 % OFF
"Concorde" 24-piece stainless steel flatware set in design box by Christofle
The "Concorde" design box by Christofle adds a special highlight to a table. Inside the elegant, shiny stainless-steel box is a 24-piece cutlery set.
In stock
Same day shipping
This Christofle Concorde cutlery set is dishwasher-safe  and made of stainless steel and bears an impressive pattern of engraved lines.
Christofle Concorde cutlery set consists of 6 standard knives, 6 standard forks, 6 soup spoons and 6 coffee spoons. An oak inlay inside the box holds the cutlery securely in place.
Once opened, Concorde reveals a silverware ensemble inspired by a coffee set from the Christofle archives, with an alternating shiny and matte milleraie motif that underscores the interplay of light and metal. The elegant modernity of this stainless steel ensemble with white oak accents makes Concorde a perfect companion for shared moments of all kinds.
roduct characteristics: L26 x W7 x H25 cm
Cutlery and box made of stainless steel, inlay made of oak wood Cutlery dishwasher safe
You may also like…
Christofle 2.460,00

€

Use the coupon code: CHRISTGIFT to get 20 % OFF

The refined and highly polished Christofle 36 pieces.
A 36-piece silver plated flatware set in the Fidelio pattern made for 6 guests and comes with a storage chest.
Contains 6 of each of the following:
dinner fork, dinner knife, tablespoon, after dinner teaspoon, dessert fork and dessert knife.