Baccarat crystal vases are not just functional objects. They take on a decorative value in the field of Design and they're not considered only as simple flower containers.
These iconic Baccarat vases are a cult elements of the exclusive and refined furnishings.
Thanks to its bright and hand-made decorative cut, each vase lives with its own light and has its own identity, tied to every single detail handcrafted. Baccarat crystal vases are always present on renowned furnishing magazines or on design photography services, they are protagonists of the scene and it is almost impossible to resist to their beaty.
Get 10% OFF with the coupon code BACCARAT10
Baccarat Crystal Vase – Gift "par excellence"
How many times have you had difficulty not knowing what to give for an event? How many times have you been perplexed, insecure and not really convinced that you have bought the right gift? Suppose you would rather be satisfied with your choice? Making a gift for someone must be an experience of joy, a happy moment with positive effects, as if we were participating in a sacred ritual. At the end of this gift ritual, what must remain in our soul is the feeling of having made the right choice and of being sure of being able to excite those who receive it!
The Baccarat crystal vases are the gift "par excellence": perfect as a formal luxury gift, fantastic as a gift for your loved one; ideal as a gift for yourself, it is like a cuddle 🙂
Let's take a closer look at the most beautiful Baccarat crystal vases!
These gorgeous vases features horizontal oblique cuts on the outside and vertical oblique cuts on their inside promoting a fascinating optical effect that increase its charm thanks to the nearby light sources. The Baccarat crystal vases Eye are an exaltation of the unpredictability of perception thanks to the creation of changing images due to the changing brightness. A perceptive game that conquers, surprises and fascinates the observer. The layers ripple gently, creating a feeling of continuous movement. The profiles evoke a cyclone of transparent crystal, an authentic vortex capable of hypnotizing the viewer.
Baccarat

€

1.150,00

Baccarat crystal oval Eye vase with gift box.
Size: Height 24 cm

The Baccarat Crystal masterpieces symbolize the exception, the excellence but also innovation and luxury.
Baccarat

€

1.850,00

The wavy design of the crystal Eye vase comes from an extraordinary technique: exterior horizontal cuts and interior vertical cuts combine to produce a magic visual effect.
In the best adventure stories there is always a hero looking for a precious stone with a rare and priceless beauty. Like a delicately cut precious stone, this vase is an authentic gem that can beautify any place. This blood red ruby, an exclusive, refined and elegant object, with the signature of the designer Thomas Bastode, it is able to illuminate the best bouquets of flowers.
Baccarat

€

1.500,00

Baccarat crystal Octagone red vase with red gift box. Height 25 cm The signature of all Baccarat chandeliers, the octagonal tassel is here transformed into a red crystal vase, the signature colour of Baccarat obtained with pure gold.
Powerful as a crystal column capable of supporting the Universe, the Baccarat Grand Louxor crystal vase imposes itself with an imperial design. With faceted lines, Baccarat crystal vase Grand Louxor adapts perfectly to the spirit of the time, becoming immortal like a god of ancient Egypt. It can be a vase, a decorative accessory or a centerpiece, according to the tastes and atmospheres of your Living. The vase is suitable
even for large candles, releasing a multitude of rays of light.
Baccarat

€

850,00

Baccarat crystal Louxor grand vase with gift box.
Size: Height : 19,5 cm Width: 18,5 cm

The name Louxor is inspired by the famous Egyptian archaeological site and its architecture.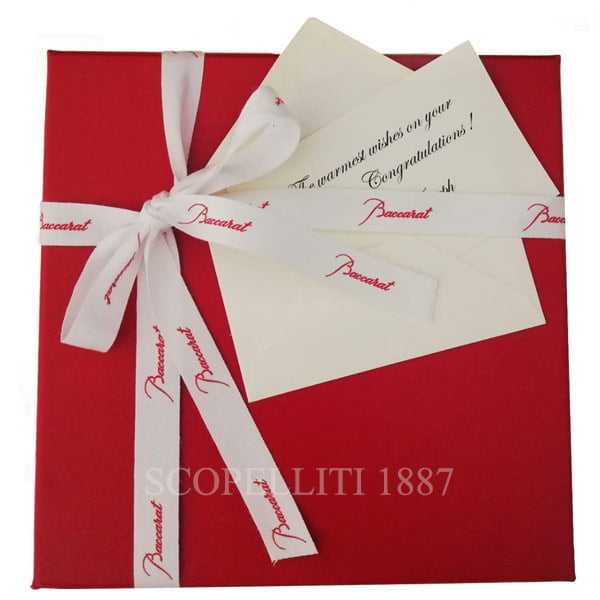 Enclose your Greeting Card
Baccarat crystal vases are the perfect choice for people that loves elegance and luxury. Your gift come in its beautiful red gift box and fixed with its elegant original ribbon.
To make it very exclusive, your carefully packed gift will contain your greeting card enclosed. Please, write your personal message during checkout, then we will print it on a beautiful card and attach it to the gift.
For Scopelliti 1887 the packaging is as important as the gift itself!
Get 10% OFF with the coupon code BACCARAT10
The Baccarat crystal vase Louxor is a perfect meeting place between light and crystal. Two elements capable of getting lost in a loving game of psychedelic interaction. With a design inspired by the Art Deco period, and with the name inspired by the famous Egyptian archaeological site, the Louxor crystal surface designed by Thomas Bastide has a sumptuous cut that promotes its reflections. The imperceptible gradients of the precise geometric cuts embody the refined craftsmanship of Baccarat: the three-dimensional surface is composed of pyramidal shapes with a vertical cannon motif on the inside.
Baccarat

€

770,00

Baccarat crystal Louxor vase with gift box.
Size: Height : 20 cm, Length : 15 cm, Width: 9,6 cm

The name Louxor is inspired by the famous Egyptian archaeological site and its architecture.
This vase with round and spherical lines, carved with a large lens otive, is a tribute to the original design by Georges Chevalier. Baccarat crystal vase Heritage Ponti presents the circular hollow cut motif in the transparent crystal creating a sublime and elegant optical effect. A refined object of versatile design and suitable for any furnishing style.
Baccarat

€

1.200,00

Baccarat crystal Héritage Pontil vase with red gift box.

This round modern vase features a recessed concave circular cut in the clear crystal which creates an kinetic optical effect typical of the period. The vase is a tribute to the original Georges Chevalier's design.
Baccarat crystal vase Spirale seems to spread its wings towards an unpredictable flight suggested by its splendid poetic line, as if it were a ribbon moved by the wind. The Design of the Baccarat crystal vase Spirale recalls the architectural structure of the Guggenheim museum in New York, which makes it modern and classic at the same time, capable of giving classicism and flair to every room.
Baccarat

€

990,00

Baccarat crystal Spirale vase with red gift box.
Size: Height 27 cm

Designed by Thomas Bastide for Baccarat, this exquisite Spirale crystal vase is like a ribbon fluttering in the wind enhancing the magic of crystal with its enchanting swirl.
The Baccarat crystal vase Diamant Baluster is designed by Thomas Bastide. Diamant Baluster is one of the most precious vases of this luxury brand. The vase reinterprets in a modern key the fascinating diamond point cut on a delicate and slender structure. This vase is a symbol of the timeless classicism of Baccarat crystals.
Baccarat

€

11.000,00

This Baluster vase in hand-blown clear crystal is decorated with pointed diamond cuts, flat cuts and vertical bevel cuts. The piece makes a classic and timeless addition to any décor.
In a veritable whirlwind of crystal lines, the Baccarat Crystal vase Tornado is made by focusing on the optical effect that comes from its deep sections chiseled in the upper part of the structure. In fact, the angular cuts welcome and refract the light releasing it with diagonal rays. These details highlight even more the particular and extraordinary workmanship of Baccarat's mastery in shaping the shapes. An art that allows this vase to possess incredible magnificence. The cuts of the glass create a spiral that increases the luminous effect of the crystal. A tornado that spreads upwards, opening up to welcome your elegant bouquet. But its elegance and shine make it the suitable gift for any special event. Beautiful also simply without flowers, as a piece of furniture with a luxurious style.
Baccarat

€

3.500,00

The unexpected angular cuts refract the light off of sharply diagonal outlines, in this way highlighting Baccarat's mastery of form. These artful incisions add an astonishing graphic richness to the line of the vase. The chiseled openings coil around the circumference of the vase in a poetic spiral, which amplifies the three-dimensionality of the luminous crystal. The vase's wide circular neck structures any bouquet in any lovely floral configuration. The elegance of the vase adds splendor to any room. Its energy makes the vase an exquisite gift for any occasion. The vase is available in two sizes.
The Baccarat Crystal vase Harcourt Baluster is among the original and elegant variations of the Harcourt collection. These vases are recognizable not only thanks to the unmistakable beauty of Baccarat crystal but because they possess and take up all the iconic elements of this line. From flat ribs to the triple button and the traditional square base. A mix of classicism and modernity that make it an evergreen of the Harcourt range.
Baccarat

€

2.100,00

Special offer, limited time only, use the coupon code BACCARAT20 during checkout and receive a 20% discount

Baccarat crystal Harcourt Baluster vase with red gift box.
Size: Height 31.5 cm

The Harcourt baluster vase features an amphora shape in clear crystal with flat cuts, a double button and a round base and a beautiful bold rolled rim.
The Ginkgo vase is capable of rendering any floral arrangement into a true botanical showcase, allowing the stems to spread amply and the buds to flourish freely. It is also an immaculate piece unto itself thanks to its a skillful showcase of craftsmanship.
Ginkgo Biloba is today the oldest plant that exists and has hardly undergone any type of evolution. It represents stability and great strength, so this vase is indicated as a gift of esteem and gratitude.
Baccarat

€

930,00

The vase's immaculate silhouette fans out into a resplendent translucent arc. It is cut in a continuous, uninterrupted span of Baccarat Clear crystal: a striking piece, amplified all the more by its considerable size.
Processing Technique of Baccarat crystal Vases
In addition to the beauty and brilliance of the crystal, we mention here the particular production technique. The main blower performs a series of fundamental steps for the manipulation of an important crystal block in order to obtain a single vase. Once that incandescent crystal mass is selected, the main blower starts to shape it and then focuses on the handmade cuts on the crystal, according to the ancient art of the Baccarat tradition
Any question about Baccarat crystal vases?
If you have some special request or just want to ask any question about Baccarat vases, we at Scopelliti 1887 staff  would be happy to be at your service.