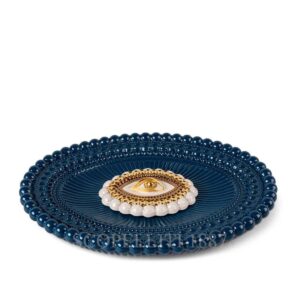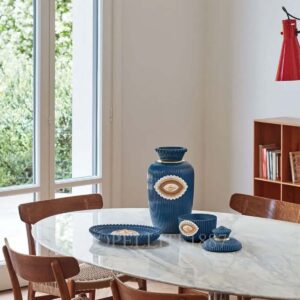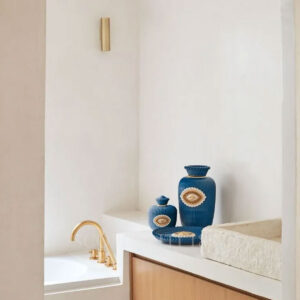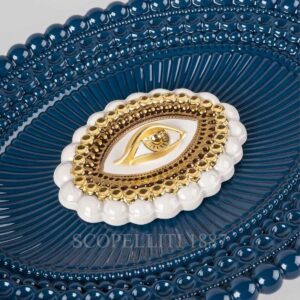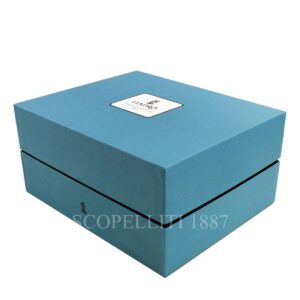 Lladró Porcelain Tray Lover's Eyes
Use the coupon code: EMOTIONS to get 

10 % OFF
Lladro porcelain tray from the Lover's Eyes collection, inspired by a fascinating centuries-old tradition.
Available on back-order
Shipping time: approx. 1-2 weeks
view all "same day shipping" products
750,00€
Lladró Porcelain Tray Lover's Eyes
In 1785, when Maria Anne Fitzherbert opened a love letter from her admirer, Prince George of Wales, she wasn't expecting to find an eye gazing intently back at her. The prince had fallen in love with Fitzherbert, but their courtship had been disastrous. Royal laws forbade a Catholic widow like his beloved from becoming a monarch. But the prince was determined to marry her and he wrote her a letter containing a rare, spellbinding gift, a miniature painting of George's own right eye.
Eye miniatures, also known as lover's eyes, cropped up across Britain and were in vogue for around half a century. As with the royal couple, most were commissioned as gifts expressing devotion between loved ones. All were intimate and exceedingly precious, meant to be tucked into pockets, or pinned close to the heart.
The Lover's Eyes collection is inspired by this fascinating tradition, bringing into the 21st century a series of functional objects that seem to look back at us. In this case, a tray featuring an eye etched in vivid detail on the porcelain. It is decorated in a combination of intense Saxony blue and golden luster on white porcelain.
A creation full of meaning, both functional and hypnotic.
Lladró Porcelain Tray Lover's Eyes details:
Brand: Lladrò
Collection: Lover's Eyes
Material: Porcelain
Finished: Gloss and gold luster

Designer: Susana Rodriguez

Sculptor: Dept. Diseño y Decoración

Height: 6 cm

Width: 34 cm

Length: 26 cm

Weight: 3.1 kg

Made in Spain
Gift box included.
Your Lladró Porcelain Tray Lover's Eyes will be wrapped especially without any additional cost and you can also include a personalized gift note.
You may also like…
Same day shipping 550,00

€

Use the coupon code: EMOTIONS to get 

10 % OFF

LLADRO GALLOP I figurine with gift box.
Sculptor: Alfredo Lorens, Release year 2003.
Size: 17 x 24 cm