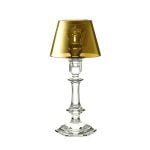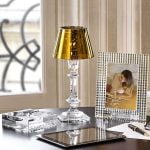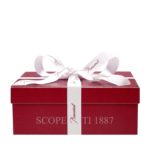 Baccarat Harcourt Our Fire gold crystal Candlestick
€ 990,00
Baccarat Harcourt our Fire Candlestick gold with red gift box.
Height 32,5 cm / H 12.8″
Designed by Philippe Starck, the all-crystal « Our Fire » candleholder, inspired by the celebrated Harcourt set, has become one of Baccarat's iconic creations.
Available on backorder
approx. 1 - 4 weeks delivery time

Discover our current promotions - Ask Danka

+39 391.345.6441
The store is currently closed, Danka will answer your queries within the next 12 hours.
The candelabra is made up of three sections: the base is a Harcourt candlestick, followed by a candleholder inspired by the form of Baccarat's Harcourt glass, and finally a crystal lampshade with a glittering golden metallic finish. Light, filtered by the magic of crystal, flickers from the flame of the candle and turns into a magic glow.