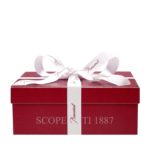 Baccarat crystal Plate Swing medium
$ 135,07
Baccarat crystal Swing medium plate with gift box.
With its modern design and hypnotic light effects, the faceted cut Swing bowl makes your table vibrate.
Available on backorder
Same day delivery

Discover our current promotions - Ask Danka

+39 391.345.6441
The store is currently closed, Danka will answer your queries within the next 12 hours.
Height 0.7 in
Diameter 7.1 in
Available in plates, bowls, cups and chopstick holders, the collection makes all your wishes for a perfect brunch come true. Design Paul Ared.