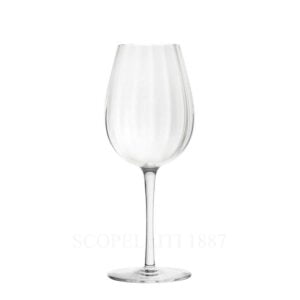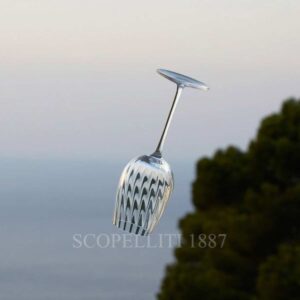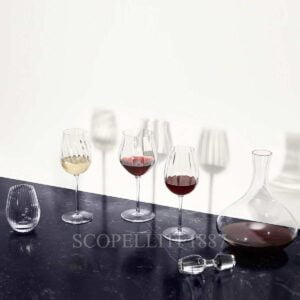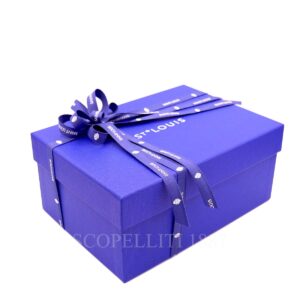 Saint Louis Twist 1586 Mature Wine Glass
151,00€
Use the coupon code: CRYSTALGIFT
Saint Louis Twist 1586 Mature Wine Glass. Each glass from the "Twist" series has a different wave design, individually conceived to highlight the liquid content at its best.
Diameter: H22.4 cm, ø 8.8 cm, 39 cl
Available on back-order
approx. 2-4 months delivery time. If you need same day shipping, please check here.

Discover our current promotions - Ask Danka

+39 391.345.6441
 How to recognise a mature wine ? Intuitively, each of us knows what a mature wine is, since we only age high-quality wines from good terroirs. However, the notion of allowing a wine to age has evolved over time: today, we drink much younger wines. Follow a simple rule to avoid mistakes : opt for the mature wine glass for wines over five years old.
Twist 1586, is an audacious collection of tasting glasses pairing esthetics with technical expertise. Forgotten is the intimidating etiquette of the traditional dégustation: Twist 1586 proposes, without concern for color or origin, a choice as natural as it is universal: a glass for the young wine, a glass for the mature wine, a glass for champagne. For them, Saint-Louis has reinvented the iconic Venetian stripe, the parison reveals all the nuances of wine through a subtle play of light. Its lines of varying density, depending on the model, succeed the regular bands of yesteryear. Each with its own rhythm. Handmade in France.