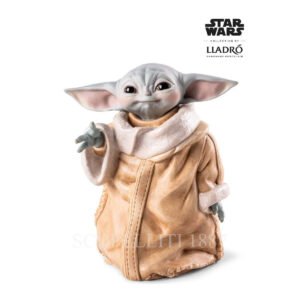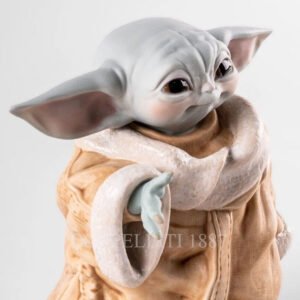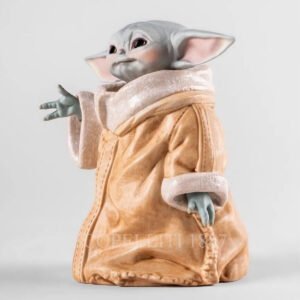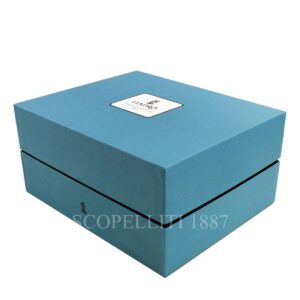 Lladró Grogu Star Wars Sculpture
420,00€
Use coupon code: EMOTIONS to get 20% OFF
Porcelain creation faithfully recreating the much-loved character from The Mandalorian in the Star Wars saga.
Size: h 15 cm x L 14 cm x l 11 cm
Available on back-order
approx. 1-2 weeks delivery time. If you need same day shipping, please check here.
Your porcelain figurine will be wrapped especially without any additional cost and you can also include a personalized gift note.
Grogu is a cute little character who quickly conquered the hearts of countless fans of the Star Wars saga ever since he first appeared in The Mandalorian series. The sculptural work in this creation, handcrafted in porcelain, is particularly outstanding for the perfect likeness of the character and for the different decorative techniques used.
His face, ears and hands are decorated with liquid colors, perfect for underscoring all the details of the skin, like the little frown lines, the dimple and the shape of the ears.
Pearly touches are also used for the cheeks, as well as soft stony grey and pink tones. A matte camel color was chosen for his robe, combined with off-white for the collar and sleeves.
The off-white color is applied using a technique of painting and erasing that increases the effect of depth in the fabric. And, of course, a special mention is deserved for Grogu's eyes, the only detail for which glazed effects were used, with the goal of making this gaze more intense and alive.
You may also like…
Lladró 930,00

€

Use coupon code: EMOTIONS to get 20% OFF

LLADRO HORSE ON PIROUETTE – Silver Lustre – with gift box.
Re-Deco Edition
Juan Ignacio Aliena, Release year 2013.
Size: 34 x 30 cm