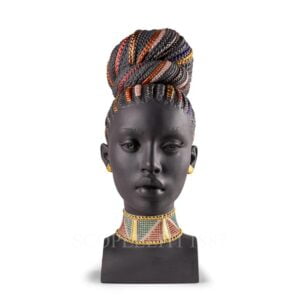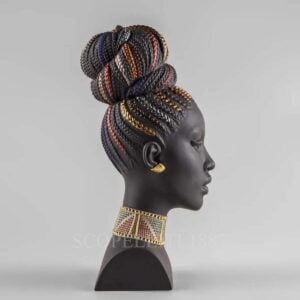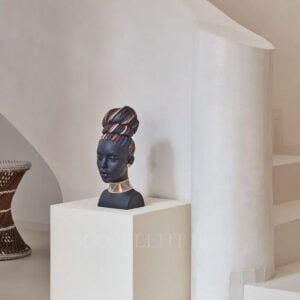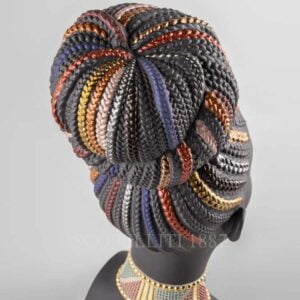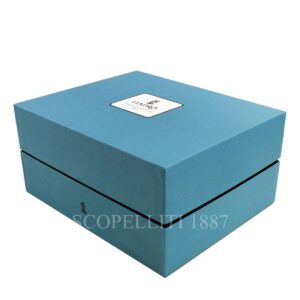 Lladrò African Colors Figurine
Use the coupon code: EMOTIONS to get 

20 % OFF
Lladrò African Colors Figurine decorated in golden luster.
Available on back-order
Shipping time: approx. 1-2 weeks
view all "same day shipping" products
1.620,00€
Lladrò African Colors Figurine
Made in matte black porcelain, this bust of a woman borrows its inspiration from the symbolism and intense coloring of African culture. The serene facial features, masterfully sculpted, are rounded off with a decoration using luster and metallic colors.
Particularly noteworthy are the details etched in the earrings and pendant and the ornamental work recreating the intricate braiding of the hair. The result is a creation with great expressive strength that speaks to the character of African art.
Lladrò African Colors Figurine details:
Brand: Lladrò
Material: Porcelain
Finished: Matte and metallic luster
Designer: Robert Schnyder

Sculptor: Raul Rubio

Height: 39 cm

Width: 15 cm

Length: 21 cm

Weight: 3.1 kg

Made in Spain
Gift box included.
Your porcelain Lladrò African Colors Figurine will be wrapped especially without any additional cost and you can also include a personalized gift note.
Exclusive breakage insurance included. FREE Worldwide Shipping
You may also like…
Lladró 930,00

€

Use the coupon code: EMOTIONS to get 

20 % OFF

LLADRO HORSE ON PIROUETTE – Silver Lustre – with gift box.
Re-Deco Edition
Juan Ignacio Aliena, Release year 2013.
Size: 34 x 30 cm