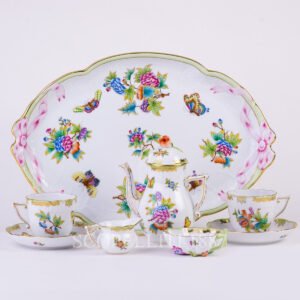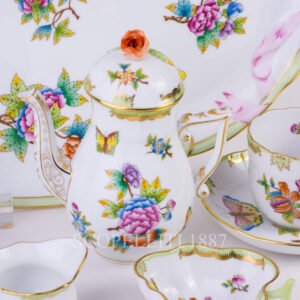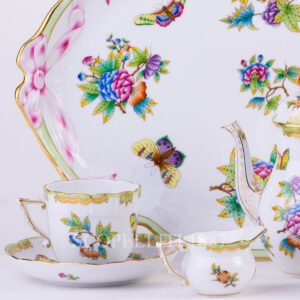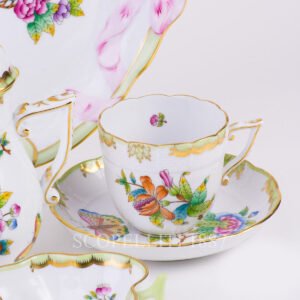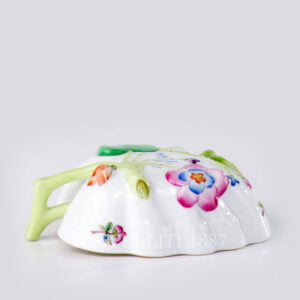 Herend Queen Victoria Coffee Set for 2 persons VBO
Herend hand-painted Coffee Set for 2 persons VBO Queen Victoria. Gift box included.
Available on back-order
Shipping time: approx. 1-2 months
view all "same day shipping" products
1.648,00€
The Coffee Set contains the following porcelain items:
1 pc – Coffee Pot h 21,5 cm vol 8.0 dl (27 OZ) 613-0-09 VBO
1 pc – Sugar Bowl vol 1.5 dl (5 OZ) 492-0-00 VBO
1 pc – Creamer h 5 cm vol 0.5 dl (1.5 OZ) 645-0-00 VBO
1 pc – Tray – 40 x 28 cm (15.75″L x 11″W) 400-0-00 VBO
2 pc – Coffee Cup vol 2 dl (6 OZ) 706-2-00 VBO
2 pc – Saucer diam 14 cm (5.5″D) 706-1-00 VBO
Total: 8 pieces Herend porcelain items
We are official distributor of Herend Porcelain, that is the world famous Porcelain Manufactory, operating for over 180 years. Herend is synonymous for unique, hand painted, master crafted porcelain. Every piece is hand made, holds artistic value and is the centrepiece of luxury and beauty. We are sure you will be amazed by the masterpieces of Herend Porcelain.
If you have any questions we would be happy to be at your service. 
About the design – Queen Victoria VBO – What is perhaps Herend's most famous pattern is made up of almost a hundred kinds of stylized butterflies and springs of blossom, painted in cheerful and lively colours. The strong element of the decor is the peony, which derived from China before coming one of the favourite motifs of early European porcelain.