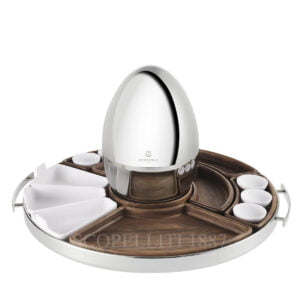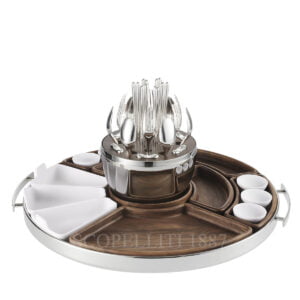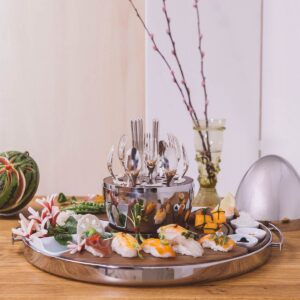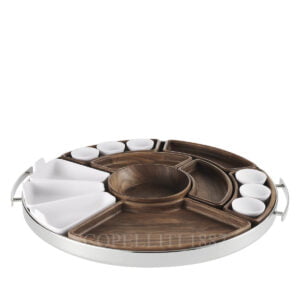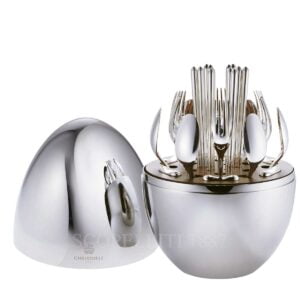 NEW Christofle Asia Mood Cutlery Set with Large Tray
3.230,00€
Use the coupon code: CHRISTGIFT to get 10 % OFF
Christofle Large stainless steel tray Mood ASIA with egg shaped Cutlery Set Asia that is a complete silver plated set for 6 people and consists of 6 chopsticks + 6 chopstick rests + 6 dessert forks + 6 soup/dessert spoons. Gift box included. Tray size: L 48 cm x l 52 cm with handles Cutlery set size: ⌀ 18,6 cm, h 27 cm
In stock
Same day shipping

Discover our current promotions - Ask Danka

+39 391.345.6441
To enhance conviviality around MOOD Asia stainless steel Tray with wood and porcelain, Christofle completes its proposal on asian gastronomy with a brand new tray. To have a complete concept around the MOOD Asia, this tray is composed of flexible wooden parts that made it the ideal object to offer Sushi, Maki, Tempura, Dim Sum… They are all reversible and removable, with food varnished wood. The center part is adaptable to receive the MOOD Asia. It is also composed of 1 large board, 5 rounded boards, 3 large white porcelain compartments and 6 white porcelain sauce bowls (Ø 60mm – 4 cl).
Asia Mood egg shaped Cutlery set for 6 persons includes:
6 silverplated chopsticks (length 23,5 cm, two-level ridges for better food grip)
6 silverplated chopstick rests (length 4 cm, the slightly hollowed-out shape in the center allows the chopsticks to be held in the center)
6 silverplated broth spoons (length 17 cm, the shape of the handle is slightly curved to easily match to any type of bowl)
6 silverplated dessert or starter forks (length 17 cm, harmoniously complete "Mood Asia" and ensure an Asian gastronomy experience accessible to all)
You may also like…
Mood 420,00

€

Use the coupon code: CHRISTGIFT to get 10 % OFF

Christofle Mood Coffee silverplated espresso spoons, set of 6 in egg case. Gift box included.

In the elegant high-gloss stainless steel container is a six-piece espresso spoon set from Christofle. The "Mood" espresso spoons from Christofle are silverplated and can be securely stored in the walnut wood insert. The circular opening in the centre is conceived, for instance, for small sugar sachets.