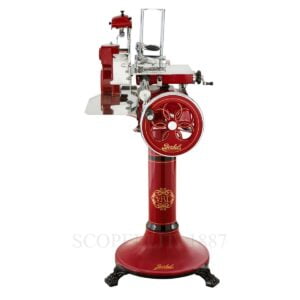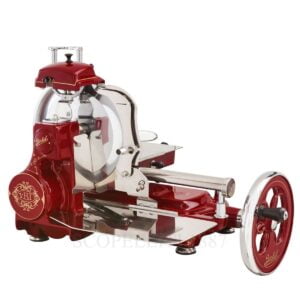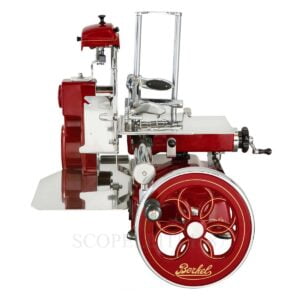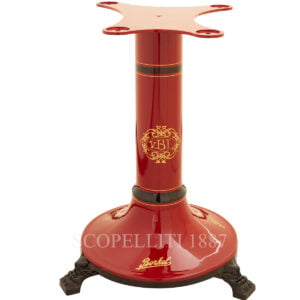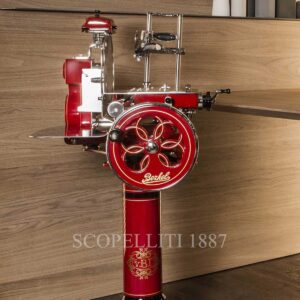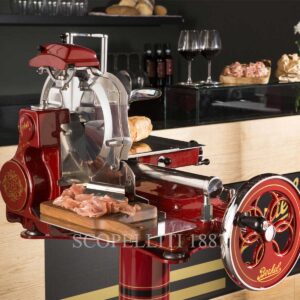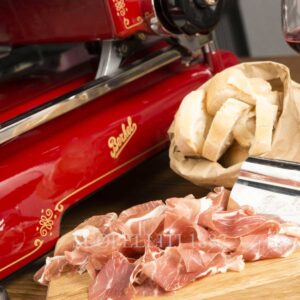 Berkel Tribute Meat Slicer Red with Stand
€ 8.648,00
Berkel Volano Tribute Red flywheel cured meat slicer with stand is an inspiration of the Berkel historic B model of the '20s called "Indiana". This ideal machine with its sophisticated touch and traditional cut will be perfect for home use.
FREE WORLDWIDE DELIVERY
Available on back-order
approx. 1 - 4 weeks delivery time

Discover our current promotions - Ask Danka

+39 391.345.6441
Berkel Flywheel Tribute Red
Berkel Tribute is inspired by one of the most renowned Berkel models. The flower flywheel, gold colour decors, and elegant design make this meat slicer a true tribute to tradition.
Its considerable cutting capacity makes it ideal for those who enjoy the real flavour of things, whereas its elegance makes it perfect for those who love all things beautiful.
Tribute has a blade with a 300 mm diameter. It's also available in black colour. This artisanal machine is much appreciated by cuisine enthusiasts and those who know that the perfect cut is essential to maintain and enhance the quality of a product.
Technical Data
Height  700 mm

Lenght  805 mm

Width 670 mm

Weight 52 kg

Blade Diameter 300 mm

Cut Capacity Circle 210 mm

Cut Capacity Rectangular 270 x 210 mm

Max Thickness 0 – 1,5 mm
Stand measures:
Height 780 mm
Lenght 580 mm
Width 580 mm
Weight 45 kg