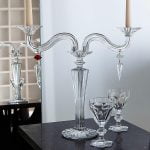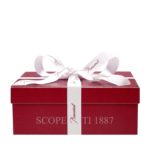 Baccarat Mille Nuits crystal Candelabrum
$ 3.192,62
Baccarat crystal Mille Nuits candelabrum with red gift box.
Size: Height 41 cm – Width 48 cm
The Mille Nuits collection, inspired by the faraway and exotic tales of The Thousand and One Arabian Nights evokes the magical and charmed Oriental Mediterranean universe with its Baroque and Venetian style. Designed for Baccarat by Mathias.
Same day delivery
Same day delivery

Discover our current promotions - Ask Danka

+39 391.345.6441
The store is currently closed, Danka will answer your queries within the next 12 hours.
The candelabrum is entirely composed of bevel-cut crystal, crafted in both straight and decorative swirled shape, which glitter luminously. The translucent crystal arms are adorned with arrowhead-shaped pendants, dangling from the Mille Nuits iconic diamond-cut pieces of crystal, that scintillate in the refracted light.
The candles are nestle within crystal candleholders shaped like blooming daffodils. The Mille Nuits candelabra is a sumptuous item which brings pure luxuriousness to any interior. It come also in three or five-light versions.