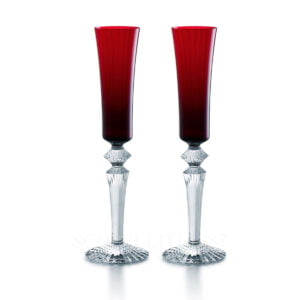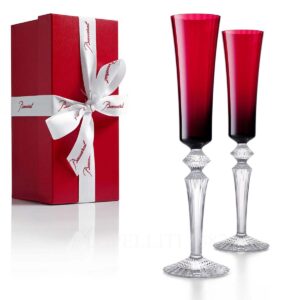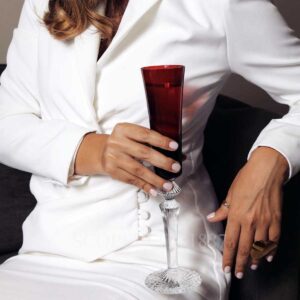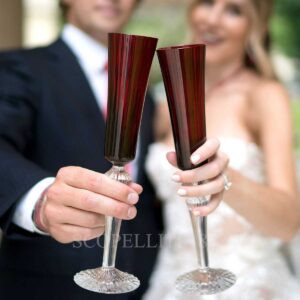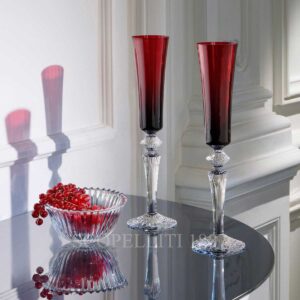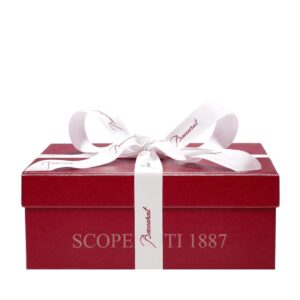 Baccarat Gift Set 2 Flutes Mille Nuits Flutissimo Red
730,00€
Use the coupon code: BaccaratGIFT
Baccarat Gift Set of 2 Champagne Flutes Mille Nuits Flutissimo in red and trasparent crystal. Gift box included.
Height: 29 cm
Capacity: 17 cl
Available on back-order
approx. 1-6 months delivery time. If you need same day shipping, please check here.

Discover our current promotions - Ask Danka

+39 391.345.6441
The Mille Nuits Fluttissimo designed for Baccarat by Mathias is an eye-catching unique sculpted creation in crystal.  The name Mille Nuits alludes to the tales of "The Thousand and One Nights" and to the oriental world.
Made of pure faceted crystal, the Mille Nuits Collection shows a myriad of refractions and sparkles in the ambiance. The cup is connected to the base by an elegant diamond-shaped crystal fragment. This characteristic element of the goblet glasses of this collection  acts as a sturdy stem. Imperceptible alternating lines along the thin cup softly reflact the light. The striped pattern around the thick base of the glass shows its peculiar and unique design.