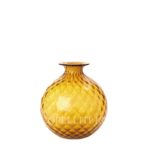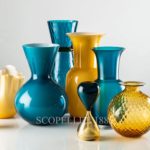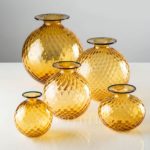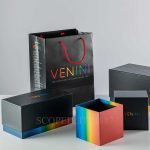 Venini Monofiore Balloton Vase x-small amber NEW
$ 272,63
Venini Single Flower small vase "Monofiore Balloton" amber/horizon thread
1 pc – Ø 11 cm, h 12,5 cm (4,33″D – 4,92″H)
Spring Summer Collection 2020.
Handmade in Italy of amber mouth-blown Murano glass, Venini's Monofiori Balloton small vase features a graduated diamond-pattern finished with a horizon glass thread.
Designed by Paolo Venini. Signed at base. Murano glass. Wipe clean with soft dry cloth. Made in Italy.
Available on backorder
approx. 1 - 4 weeks delivery time

Discover our current promotions - Ask Danka

+39 391.345.6441
The store is currently closed, Danka will answer your queries within the next 12 hours.
Blown handmade Murano glass, realized with the traditional tecnique called "Balloton", with a glass thread, applied when hot, on the upper part of the object.
Today, as 90 years ago, VENINI is a constantly developing laboratory, a place where passion for glass and fascination of the Furnace are able to enchant and thrill everyone and where ideas and intuitions, coming from international designers, come true.