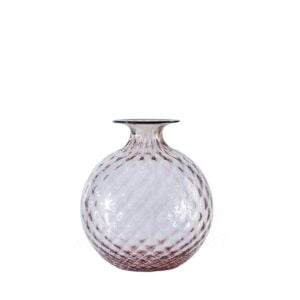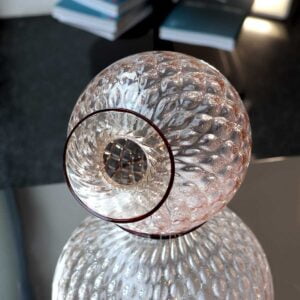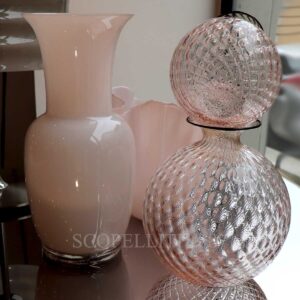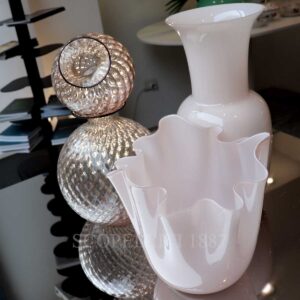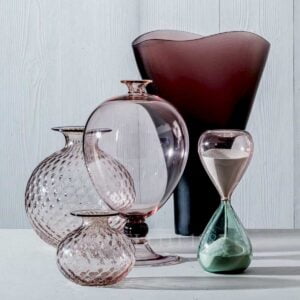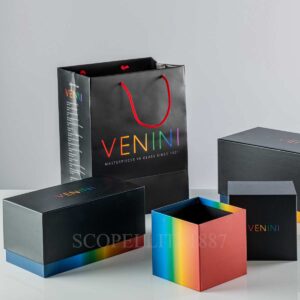 Venini Monofiore Balloton Vase Small Powder Pink NEW
Enjoy 15 % OFF on all VENINI vases!
Venini Monofiore Balloton Vase Small Powder Pink NEW in mouth-blown Murano glass is an absolute Venini Novelty of 2021. It is executed with the "balloton" technique that features a graduated diamond-pattern in new powder pink colour glass with a thread in ox blood red colour. Gift box included.
Size: Ø 14 cm, h 16,5 cm (5.51″D – 6.49″H)
New Collection 2021. 
Designed by Paolo Venini. Signed at base. Murano glass. Wipe clean with soft dry cloth. Made in Italy.
Available on back-order
Shipping time: up to 20 days
view all "same day shipping" products
Blown handmade Murano glass, realized with the traditional tecnique called "Balloton", with a glass thread, applied when hot, on the upper part of the object.
Today, as 90 years ago, VENINI is a constantly developing laboratory, a place where passion for glass and fascination of the Furnace are able to enchant and thrill everyone and where ideas and intuitions, coming from international designers, come true.