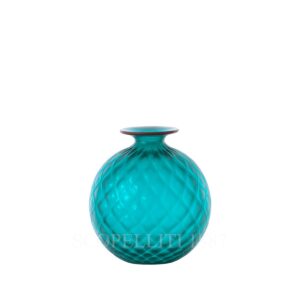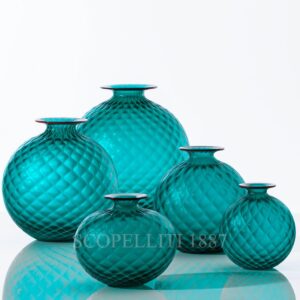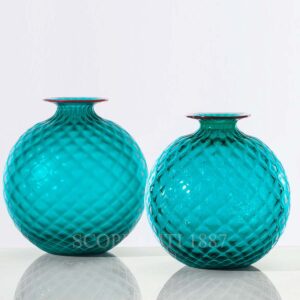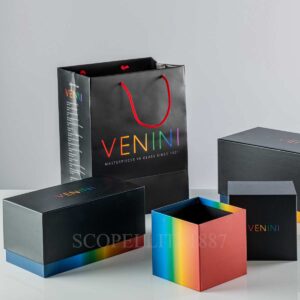 NEW Venini Monofiore Balloton Vase Paraiba X-Small Matte
Enjoy 15 % OFF on all VENINI vases!
NEW Venini Monofiore Balloton Vase Paraiba X-small Matte 100.14 with a gift box.
New Collection 2023.
Available on back-order
Shipping time: approx. 1-2 months
view all "same day shipping" products
A breath of summer freshness guides us to the discovery of the new Venini collection, inspired by the fascinating color of summer: Paraiba. The intense green of the precious gem evokes the energy and liveliness of tropical landscapes, enriching Venini's iconic collection with vibrant shades and a unique and exciting visual experience. Venini 2023's new  summer colour Paraiba is perfect for modern environments.
Venini Monofiore Balloton Vase Paraiba X-Small Matte characteristics:
Brand: Venini
Model: Monofiore Balloton
Material: Murano Glass with a graduated diamond-pattern and sandblasted finish
Size: Ø 11 x H 12,5 cm (4,33" – 4,92")
Weight: Kg: ~ 0,25 (Lb ~ 0,55)
New Paraiba Colour
Designed by Paolo Venini.
Signed at base.
Wipe clean with soft dry cloth.
Made in Italy.
Gift box included.
VENINI has always created objects with a timeless design that are destined to appreciate in value. Thanks to the excellence of quality, the high artistic content, and the manufacturing value intrinsic to each piece, the hammer prices of VENINI glassware reach record figures at major auctions; in fact, the highest price ever paid for a Murano art object was for a VENINI piece, "La Sentinella di Venezia" of 1962, which fetched 737 thousand dollars.
Creations bearing the Venini signature have become part of the permanent collections of museums of such calibre as the Metropolitan Museum and MoMA in New York, the Fondation Cartier in Paris, and the Victoria and Albert Museum in London. Venini's own museum contains 45,000 drawings, 10,000 vintage photos and 4,000 works of art, making it the most valuable historical archive of modern and contemporary glass art.
Since 2016, the Damiani family (owners of the homonymous international luxury jewellery brand), have held the controlling interest in Venini S.p.A., and their aim is to promote one of Italy's most authentically excellent brands.
Small vials, like ancient treasures that have been discovered in unknown places. Perhaps in the room of a refined woman from the past, a lover of beauty and fragrance. These blown glass ampoules with caps have the delicacy of personal belongings, with details that appear like curious florets blooming upward.
Blown handmade Murano glass, realized with the traditional tecnique called "Balloton", with a glass thread, applied when hot, on the upper part of the object. Today, as 90 years ago, VENINI is a constantly developing laboratory, a place where passion for glass and fascination of the Furnace are able to enchant and thrill everyone and where ideas and intuitions, coming from international designers, come true.