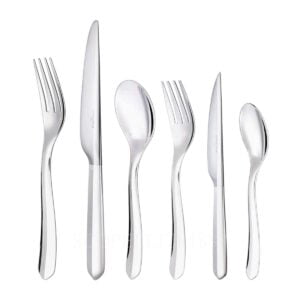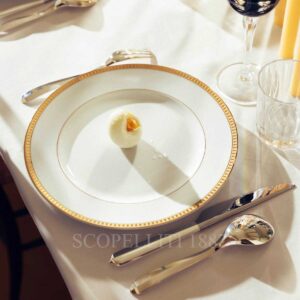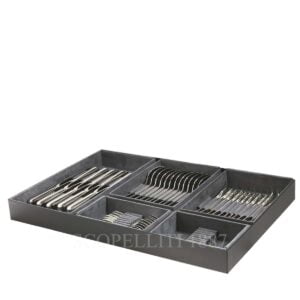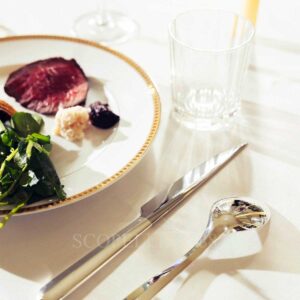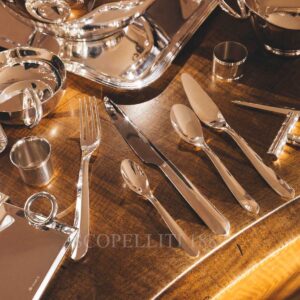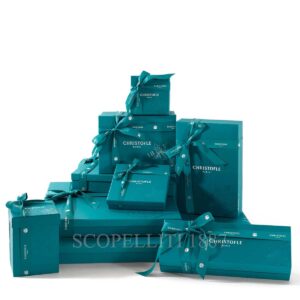 New Christofle 36 pcs Flatware Set Infini Silver Plated
3.400,00€
Use the coupon code: CHRISTGIFT to get 20 % OFF
New Christofle 36-Piece Flatware Set Infini Silver Plated is an essential cutlery that revisits table rituals.
Gift box included.
The new flatware set is suitable for 6 people and is composed of 6 dinner forks, 6 dinner knifes, 6 large universal spoons, 6 medium universal forks, 6 medium universal knifes, 6 medium universal spoons.
This set is sold with a large storage box.
Available on back-order
approx. 1-4 months delivery time. If you need same day shipping, please check here.
The Christofle silversmith's house revisits table rituals with its new collection of essential cutlery called "Infini". With entirely redefined proportions, each piece within the "Infini" collection has now its own personality intended to set tables of endless pleasures. Breaking free from codes but always drawn with a love for details, the arched silhouettes of spoons and forks, their generous curves fit into the hand and portend the flavor of a meal. The clean and taut lines of the knives offer sharp points or notched lace and accentuate the elegance of this collection.
This line is adapted to all sharing moments around the meal (breakfast, brunch, aperitif, cocktail, etc.) The special feature of this collection are so-called universal knives, universal forks or universal spoons, which are designed for a variety of uses at the table. With the same height as the classic fish knife, the "Infini" fish-sauce knife combines the use of two important pieces of the classic sets, the fish knife and the individual sauce spoon.
You may also like…
Mood 650,00

€

Use the coupon code: CHRISTGIFT to get 20 % OFF

Christofle Mood Coffee Precious espresso spoons, set of 6 in egg case, gilded with 18-carat pink gold. Gift box included.

In the elegant high-gloss stainless steel container is a six-piece espresso spoon set from Christofle. The "Mood" espresso spoons from Christofle are gilded with 18-carat pink gold and can be securely stored in the walnut wood insert. The circular opening in the centre is conceived, for instance, for small sugar sachets.