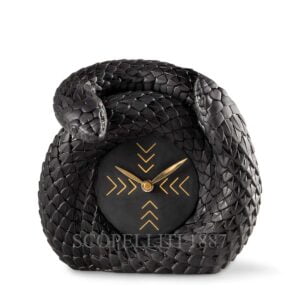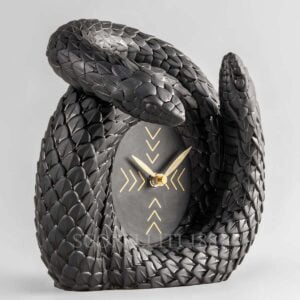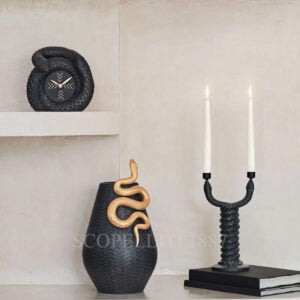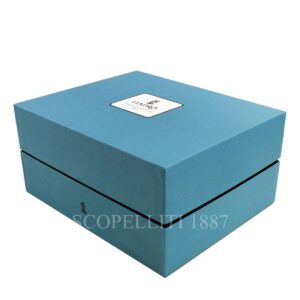 Lladró Clock Snakes Black
Use the coupon code: EMOTIONS to get 

10 % OFF
Lladro porcelain clock decorated with two intertwined snakes.
Available on back-order
Shipping time: approx. 1-2 weeks
view all "same day shipping" products
690,00€
Lladró Clock Snakes Black
Matte black porcelain table clock from the Snakes collection. The snake is a fascinating creature that arouses imagination, fear and curiosity in humans.
According to different cultures, it is an ancestral symbol of the life cycle, of wisdom and knowledge, spirituality or power and protection. In this clock, the detailed bodies of the two snakes create the perfect frame for the clockface.
Lladró Clock Snakes Black details:
Brand: Lladrò
Collection: Snakes
Material: Porcelain

Designer: Robert Schnyder

Sculptor: Raul Rubio

Height: 21 cm

Width: 22 cm

Length: 14 cm

Weight: 2.45 kg

Made in Spain
Gift box included.
Your porcelain Lladró Clock Snakes Black will be wrapped especially without any additional cost and you can also include a personalized gift note.
You may also like…
Lladró 930,00

€

Use the coupon code: EMOTIONS to get 

10 % OFF

LLADRO HORSE ON PIROUETTE – Silver Lustre – with gift box.
Re-Deco Edition
Juan Ignacio Aliena, Release year 2013.
Size: 34 x 30 cm