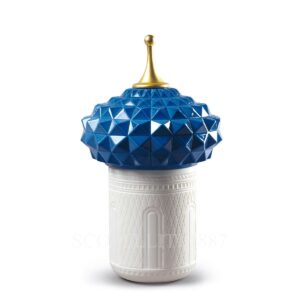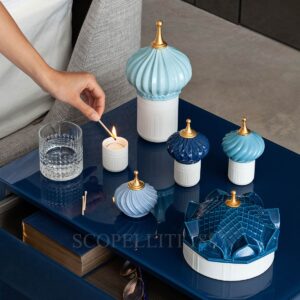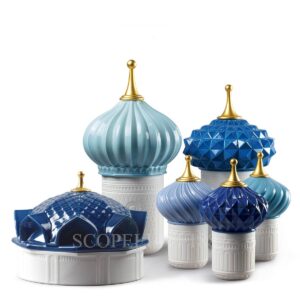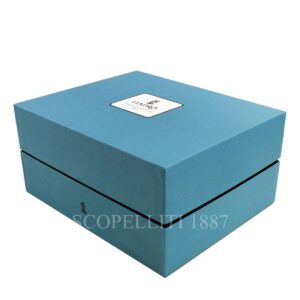 Lladró Candle South Tower 1001 Lights
Use the coupon code: EMOTIONS to get 

10 % OFF
Lladró Scented Candle South Tower 1001 Lights in gloss and gold luster porcelain. Gift wrapping and gift box included.
Scented candle designed in the shape of a tower, with a translucent porcelain container and blue and gold lustre cover. Its scent carries such special ingredients such as cassis, lotus flower and frankincense.
Size: Height 22 cm, Width 13 cm, Length 13 cm
Available on back-order
Shipping time: approx. 1-2 weeks
view all "same day shipping" products
220,00€
This scented candle is inspired by the magical world of the tales of the Arabian Nights and its evocation of exoticism, fantasy and adventure.
The candles in this collection delicately combine light and aroma to produce a dreamy atmosphere. Held in poetic containers of translucent porcelain, the luminous effect produced by the hand-engraved motifs on the surface transports us to a world of fairytales. The elaborate dome protecting the wax is embellished, hand painted and crowned by a point decorated with 22 carat gold lustre, applied by means of a complex artisanal technique. It is comprised of natural wax and 15% perfume, which is a particularly high percentage for candles of this category and equivalent to ´l'eau de parfum´ in the world of perfume. It is available in the fragrance ´Indomitable Spirit´, an exotic aroma of bergamot, cardamom and musk created exclusively for Lladró.
Content: 285 g/10.5 oz. Duration: 65 hours. Smoke-free wick.
You may also like…
Lladró 340,00

€

Use the coupon code: EMOTIONS to get 

10 % OFF

LLADRO DON QUIXOTE porcelain figurine with gift box.
Sculptor: Salvador Furió, Release year 1994.

Size: 30 x 10 cm