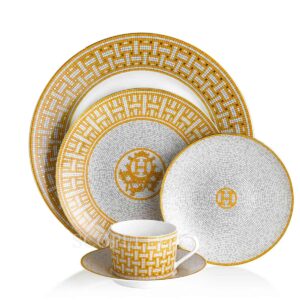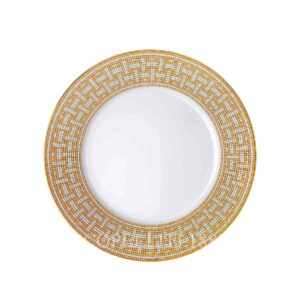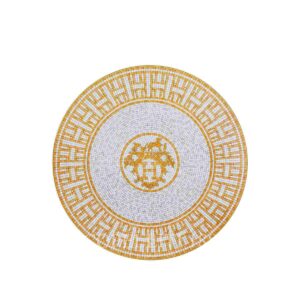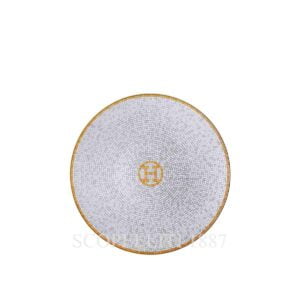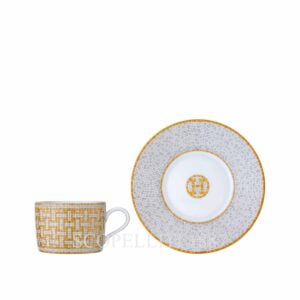 Hermes 5 piece Place Setting Mosaique au 24
621,00€
Hermes Mosaique au 24 5 pc place setting. Gift box included.
5 pc place setting includes 1 each of the Dinner Plate, Dessert Plate, Bread & Butter Plate and Tea Cup & Tea Saucer.
In stock
Same day shipping
Hermes 5 piece Place Setting Mosaique au 24 with Gift Box
Hermès Mosaique 5 pc place setting includes 1 each of the following:
Dinner Plate
Dessert Plate
Bread & Butter Plate
Tea Cup
Tea Saucer
Hermès Mosaique au 24 5 ppc details:
Brand: Hermès
Collection: Mosaique au 24
Material: Limoges porcelain
Set of 5 piece place setting
Colour: orange, grey and gold
Dishwasher safe
Made in France
This hypnotic and tantalizing dinnerware is the brand's calling card, a true homage to the ochre and gold scheme of the original store in Paris at 24 Faubourg Saint-Honoré and specifically to the sandstone floor mosaic at the heart of the boutique which dates back to 1926.
Mosaique Gold collection reflects the store's original color scheme of ochre and grey, as well as the signature Greek-style frieze that shines in gold from its central place upon the sandstone mosaic floor at the heart of the boutique. Above and beyond these specific evocations, this setting brings to your table shades of Greek classicism, modern sophistication, and contemporary design—all elements of the particular elegance that Hermes has come to represent.
Limoges porcelain.  Made in France.
We are official distributor of Luxury Hermes Porcelain.
If you have any questions we would be happy to be at your service.