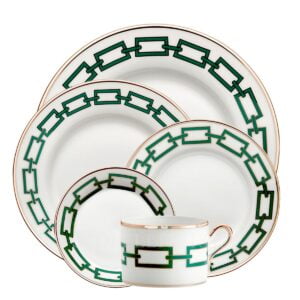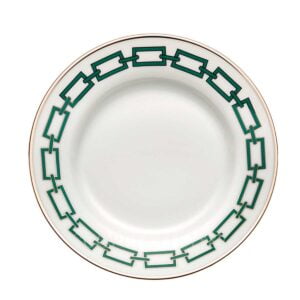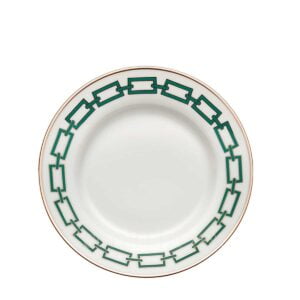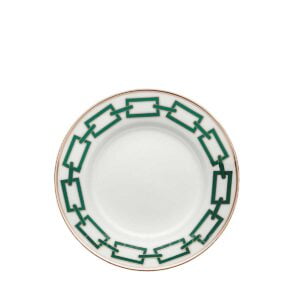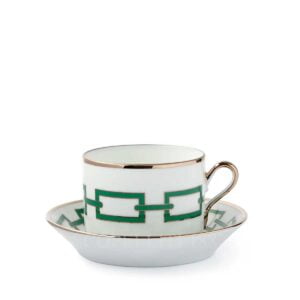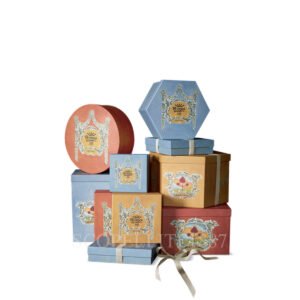 Ginori 5 piece Place Setting Catene Green
Ginori 5 piece Place Setting Catene Green with gift box.
It is not possible to order this item at this time.
view all "same day shipping" products
Out of stock
Ginori 5 piece place setting Catene Green is a dinner set that includes 1 each of the Dinner Plate, Dessert Plate, Bread & Butter Plate and Tea Cup with Saucer. Each piece is embellished with lustrous gold trim.
Brand: Ginori 1735
Collection: Catene Green
Material: Porcelain
Antico Doccia shape
Made in Italy
Gift box included.
Do not microwave
Use dishwasher with extra care (max 50°C / 120°F)
Ginori 5 piece place setting Catene Green Dimensions:
Dinner plate: H 2.8cm, Ø 28cm, W 850g
Dessert plate: H 2.4cm, Ø 22cm, W 345g
Bread and butter plate: H 2cm, Ø 16cm, W 165g
Tea Cup: H 5.8cm, Ø 8.2cm, C.ty: ≈ 220ml, W 120g
Tea Saucer: H 2.5cm, Ø 13.3cm, W 150g
A very young Gio Ponti served as the artistic director of the Manifattura from 1923 to 1933, an incredible decade during which the legendary designer reimagined the art of working with porcelain by translating the legacy of artisan knowledge into new languages that remain contemporary even today.
In 1926 many designs took shape out of his irrepressible creativity. Among these, a decoration made up of rectangular rings linked to one another. A chain, indeed. Sophisticated and elegant in its essentiality, but also explosive and disruptive in its geometric movement.
Perfect for all occasions, Ginori 5 piece place setting Catene Green will add a touch of beauty every time you use them.
The Catene collection is available in a palette of four bright colors:
Red
,
Green
,
Blue
and
Black
. Please note, each Richard Ginori 5 piece Place Setting is unique and has been hand decorated by artisans.