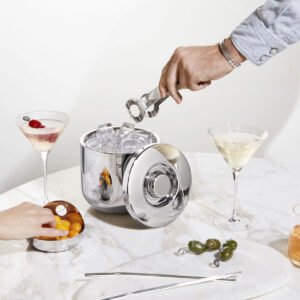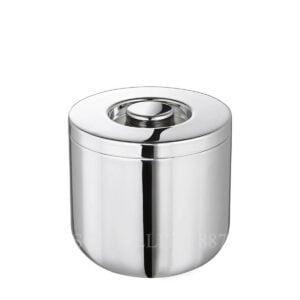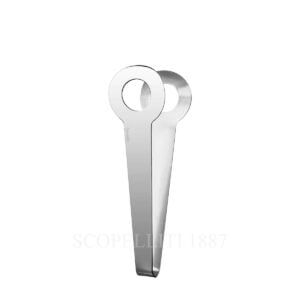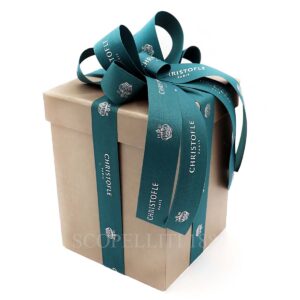 Christofle Set Ice Bucket with Ice Tong Oh!
395,00€
Use the coupon code: CHRISTGIFT to get 20 % OFF
Christofle Stainless Steel Insulated Ice Bucket with Ice Tong Oh de Christofle Collection with its contemporary style is perfect for your wine tasting occasions. Gift box included.
Ice bucket: H 16 cm, Ø 16cm
Ice tong: H 18 cm
In stock
Same day shipping
This bucket keeps ice cubes or crushed ice in the best conditions and longer thanks to its double insulation wall and its insulated cover. This insulated bucket presents in all subtlety the emblematic decoration of OH by Christofle, enhanced by the polished mirror of exception signature of the Christofle know-how. Double walled bucket with insulated lid finished with a silicone seal. Inspired by the nautical world, the Christofle OH steel pieces with their clean, contemporary lines make up the Christofle Outdoor collection.​ Combining functionality and aesthetics, its rings are inspired by the eyelets found on the most prestigious sailing boats.​ The soft, round shapes of the products are decorated with a decorative detail that makes them easier to hold.​ With the extension of OH by Christofle, this collection will accompany you throughout your evening of sharing: from the preparation of your cocktails to the presentation of your most beautiful bottles.
The Oh! stainless steel ice cube tongs pair nicely with the Oh! ice bucket and are an essential part of every home bar. The hip and modern Oh! collection provides all the essential pieces to throw the perfect cocktail party or celebration.