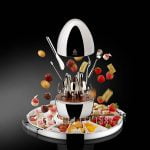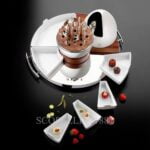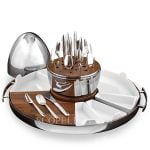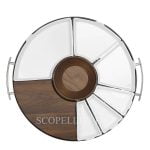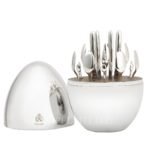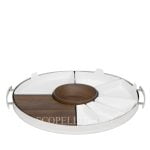 Christofle Mood 24-Piece Flatware Set with Party Tray
€ 1.700,00
Christofle Mood for 6 people silverplated Aperitif Flatware Set with Storage Capsule & Mood Party Tray. Gift box included.
Designed for one's informal dining moments, MOOD Party by Christofle is a set featuring cutlery for 6 people for life's sweet & savory moments. The MOOD party combination features the 24-Piece Silver Plated Aperitif Flatware Set in its egg shaped shell, combined with the lates addition to the Christofle family, the MOOD Party Tray that, with its center space, fits perfectly the MOOD Flatware set.
MOOD Party by Christofle, with its avant-garde vision of convenience and comfort, invites itself to all tables as a promise of sharing and memories.
Available on backorder
approx. 1 - 3 weeks delivery time

Discover our current promotions - Ask Danka

+39 391.345.6441
The store is currently closed, Danka will answer your queries within the next 12 hours.
Product characteristics:
1) Silverplated cutlery, stainless steel egg case with walnut wood inlay. The set includes the following: 6 butter knives 6 small spoons 6 appetizer/dessert forks 6 silver-plated cocktail picks 1 storage capsule The egg-shaped storage capsule is made of a mirror-polished steel with a walnut base interior.
2) Mood Stainless Steel Party Tray ø 40 cm
– Polished steel tray with handles,
– Presentation board and central element in walnut,
– 6 compartments in Limoges porcelain, in 3 sizes read more...
The Christofle decorative egg case, plated in precious metal and lined in rosewood, is reminiscent of a Fabergè Egg. The compact polished shape is a streamlined, contemporary and universal statement which brings to the refined table both the promise of conviviality and moments to remember.
The outer storage capsule with its avant-garde vision is enriched by the engraved Christofle coat of arms and logo: a new and bold manner of living luxury in everyday life bringing brightness to kitchens or living-rooms.
Christofle, the Maison that stands for excellence in silversmithing, offers in MOOD By Christofle an avant-garde vision of relaxed entertaining that remains both elegant and refined.
You may also like…
Mood

€

11.500,00

Christofle Mood 24-Piece gilded cutlery set in Egg Case – For Six People

This design egg from Christofle is like a surprise egg. In the chic, gleaming receptacle of gilded (24-carat) stainless steel is a 24-piece cutlery set from Christofle. The Mood cutlery from Christofle is first silverplated and then completely gilded with 24 carat gold. The knife blades are made of stainless steel. The pleasantly shaped handles rest comfortably in the hand.