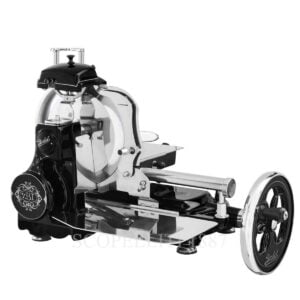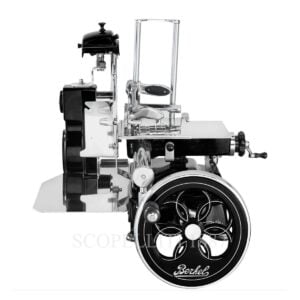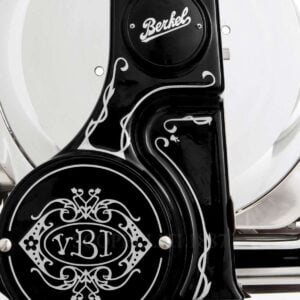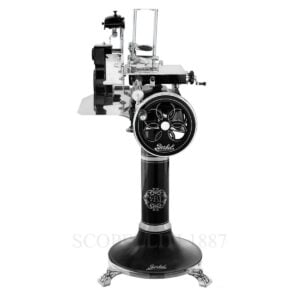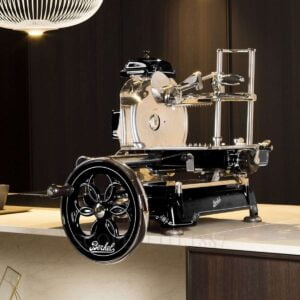 Berkel Volano Tribute Meat Slicer Black
Previous lowest price was 7.704,00€.
The Berkel Tribute flywheel slicer is a new slicer inspired by the historic Berkel B model ("Indianina") of the '20s. A tribute to elegance and tradition for all those who use the machine intensely but like a sophisticated touch.
Available on back-order
approx. 1-2 months delivery time. If you need same day shipping, please check here.
TRIBUTE, THE FLYWHEEL MEAT SLICER FOR HOME USE
Tribute is inspired by one of the most renowned Berkel models. The flower flywheel, gold colour decors, and elegant design make this meat slicer a true tribute to tradition. This artisanal machine is much appreciated by cuisine enthusiasts and those who know that the perfect cut is essential to maintain and enhance the quality of a product.
Its considerable cutting capacity makes it ideal for those who enjoy the real flavour of things, whereas its elegance makes it perfect for those who love all things beautiful.
Tribute has a blade with a 300 mm diameter. It is available in 2 standard colours: red and black. Its accessories include a pedestal with art nouveau-inspired decors.
Some details may be different from those shown in the photos.
Height 700 mm

Lenght 805 mm

Width 670 mm

Weight: 52 kg
Blade Diameter 300 mm

Cut Capacity Circle 210 mm

Cut Capacity Reptangular 270 x 210 mm

Max Thickness 0 – 1,5 mm
MANUAL FLYWHEEL SLICER
• An anti-fraud RFID microchip certifies – thanks to the smartphone's NFC system – the originality of the slicer and shows additional digital contents
• Flower flywheel
• Stainless steel receiving tray and parts
• Feet can be installed in two different configurations
• Meat table rapid advance mechanism and return system
• Built-in sharpener
• Slice thickness adjustment system with decimal advance
• Overplate, meat table, receiving tray and sharpener can be easily
removed for cleaning
• Partially removable blade guard for safety and cleaning