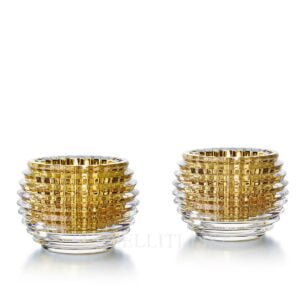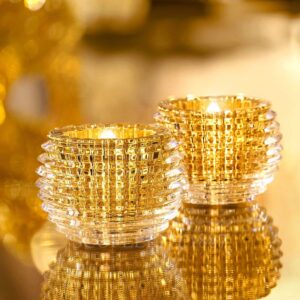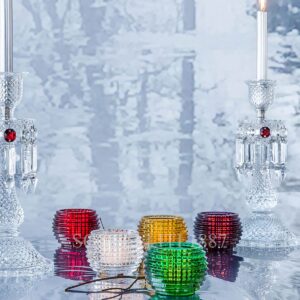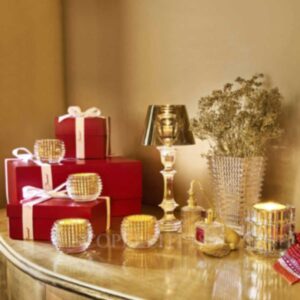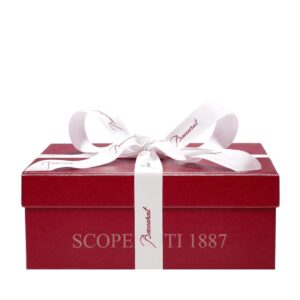 Baccarat Crystal Gold Eye Votive Set
Use the coupon code: BaccaratGIFT
Baccarat crystal gold Eye Votive Set is a beautiful set of two candle-jars that brilliantly reflects candle-light. Available in clear , violet, grey and red crystal. Gift box included.
Size: H 7 cm, Ø 9,5 cm Weight: 800 g
Available on back-order
Shipping time: approx. 1-6 months
view all "same day shipping" products
550,00€
The Baccarat Crystal Eye Votive from the amazing Eye Collection is hand-cut and designed by Nicolas Triboulot. Fashionable colours make this a modern piece with unmatched technical sophistication. The collection features horizontal exterior cuts and vertical interior cuts and is also developed into rectangular and oval vases.
The Baccarat Crystal masterpieces symbolize the exception, the excellence but also innovation and luxury. Baccarat has always known to evolve with its times to offer novelty and stunning works of art. The synchronously patterned and multi-faceted cut of the Eye Crystal Votives creates a dynamic visual texture that truly accentuates the Baccarat crystal's superior ability to capture the magic of light. The pleasing wavy design of the crystal Eye Votive Collection comes from an extraordinary technique: exterior horizontal cuts and interior vertical cuts combine to produce a magic and dazzling visual effect. The elegant style is finished with a logo-engraved base and a lacquered back.