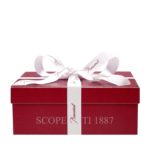 Baccarat 2 crystal Eggholder Harcourt Gift Set
$ 187,93
Baccarat crystal Harcourt Set of 2 Eggholder with gift box.
The perfect gift for gourmets!
Available on backorder
Same day delivery

Discover our current promotions - Ask Danka

+39 391.345.6441
The store is currently closed, Danka will answer your queries within the next 12 hours.
Height 2.2 in
Diameter 1.9 in
True to its modernity, Harcourt, the king of glasses, becomes an egg holder. A small object of desire to give your eggs allure and delight design fans. So chic!