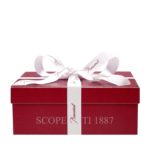 Baccarat 2 crystal Eggholder Harcourt Gift Set
$ 202,77
Baccarat crystal Harcourt Set of 2 Eggholder with gift box.
The perfect gift for gourmets!
Available on back-order
approx. 1 - 4 weeks delivery time

Discover our current promotions - Ask Danka

+39 391.345.6441
Height 2.2 in
Diameter 1.9 in
True to its modernity, Harcourt, the king of glasses, becomes an egg holder. A small object of desire to give your eggs allure and delight design fans. So chic!