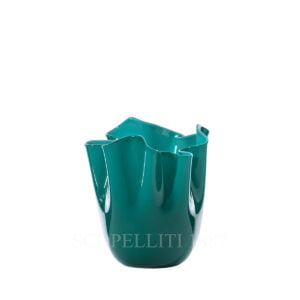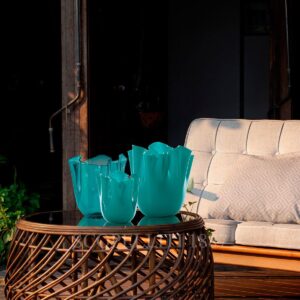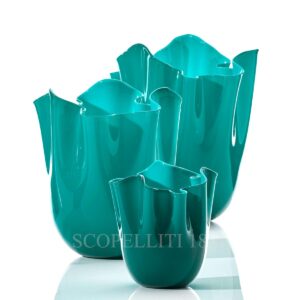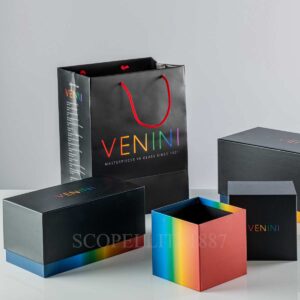 NEW Venini Fazzoletto Vase Paraiba Glossy Small
Enjoy 15 % OFF on all VENINI vases!
NEW Venini Fazzoletto Vase Paraiba Glossy Small 700.04 with a gift box. New Collection 2023.
Available on back-order
Shipping time: approx. 1-2 months
view all "same day shipping" products
A breath of summer freshness guides us to the discovery of the new Venini collection, inspired by the fascinating color of summer: Paraiba. The intense green of the precious gem evokes the energy and liveliness of tropical landscapes, enriching Venini's iconic collection with vibrant shades and a unique and exciting visual experience. Venini 2023's new  summer colour Paraiba is perfect for modern environments.
Venini Fazzoletto Vase Paraiba Glossy Small characteristics:
Brand: Venini
Model: fazzoletto
Material: Murano Glass
Size: Ø 13,5 x H 13,5 cm (5" 5/16 – 5" 5/16)
Weight: Kg: ~ 0,40 (Lb ~ 0,88)
New Paraiba Colour
Designed by Fulvio Bianconi and Paolo Venini in 1948.
Signed at base.
Wipe clean with soft dry cloth.
Made in Italy.
Gift box included.
VENINI has always created objects with a timeless design that are destined to appreciate in value. Thanks to the excellence of quality, the high artistic content, and the manufacturing value intrinsic to each piece, the hammer prices of VENINI glassware reach record figures at major auctions; in fact, the highest price ever paid for a Murano art object was for a VENINI piece, "La Sentinella di Venezia" of 1962, which fetched 737 thousand dollars.
Creations bearing the Venini signature have become part of the permanent collections of museums of such calibre as the Metropolitan Museum and MoMA in New York, the Fondation Cartier in Paris, and the Victoria and Albert Museum in London. Venini's own museum contains 45,000 drawings, 10,000 vintage photos and 4,000 works of art, making it the most valuable historical archive of modern and contemporary glass art.
The vase Fazzoletto is an icon of Venini. The "Tissue" was born from the collaboration between Fulvio Bianconi and Paolo Venini, with a soft shape and a wavy and moved hem, always unique, obtained with the flying hand technique. For over 50 years it has been featured in museums and art exhibitions. Fazzoletto, handmade and blown, each one is unique.
Using a highly suggestive technique, the master glass blower gives the still soft glass the form of an upturned handkerchief. The technical part of Opalino from the manufacture of milk glass, an opaque white glass, invented in Murano in the mid-fifteenth century to imitate the first porcelain all the rage in Europe. It is obtained by superimposing "encasing" the milk glass with a glass or more thin transparent and glass, getting beautiful objects with intense colors and bright.