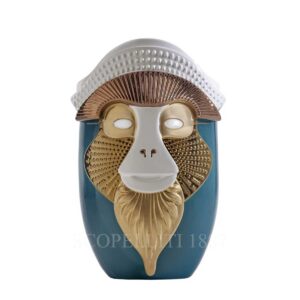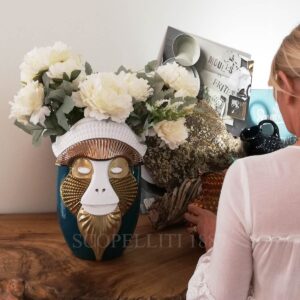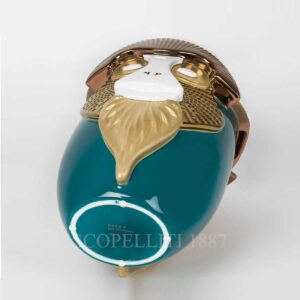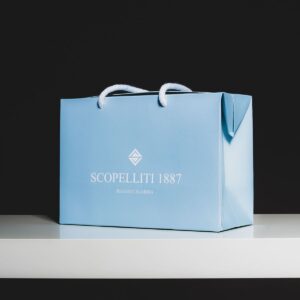 Bosa Primates Brazza Vase Biscay
Previous lowest price was 1.248,00€.
Bosa Primates Brazza Vase Biscay in ceramic is enriched with white and coloured glazes and precious gold metal details.
Designed by Italian artist Elena Salmistraro special for Bosa. Gift box included.
This Brazza Mask is available as well in other two variations of colours: nor pink
Size: L 25,5 x H 40 cm
Available on back-order
approx. 1-2 months delivery time. If you need same day shipping, please check here.
Primates Brazza Vase is a part, together with Mandrillus Vase and Kandti Vase, of the Primates collection designed by Elena Salmistraro for Bosa, presented at Maison & Objet in 2017. Named after different breeds of apes (Mandrillus, Kandti and Brazza), the "Primates" collection of art vases feature vibrant colours, textures and patterns to bring the apes to life.
These ape-like vases in saturated hues are part of Elena Salmistraro's latest collections presented in Paris for Bosa called "Primates". This set of fine ceramic vases has been created to remind us of the delicate relationship between men and apes. The collection is comprised of 6 pieces, which were showcased at Maison et Objet, referencing three different breeds of apes: the mandrill, belonging to the family of African Cercopithecidae; the golden monkey, Cercopithecus Kandti, belonging to the family of African Cercopithecidae; and Debrazza's Monkey, also belonging to the family of African Cercopithecidae. Ape is the only animal that evokes man in body shape, expressions and movements. This powerful similarity to men is what makes it fascinating, and what inspired the creation of these vases.
Elena Salmistraro is an artist and product designer, who lives and works in Milan. She graduated from the Polytechnic University of Milan in 2008 and founded her own studio together with architect Angelo Stoli in 2009, where she has been working as a product designer and artist / illustrator ever since. Her creations are the result of a combination of art and design; which are characterised by a poetic style, the utmost care for details and a painstaking search for harmony in shapes. One of her main objectives is to explore the relationship between different mediums of the visual arts and expressive languages in order to fascinate people and evoke their emotions.
You may also like…
Bosa

Previous lowest price was 531,00€.

Bosa Primates Brazza Mask Lead Grey in ceramic is enriched with white coloured glazes and precious metals.

Designed by Italian artist Elena Salmistraro special for Bosa. Gift box included.

This Brazza Mask is available as well in other two variations of colours: pink and white or blueberry and white.

Size: L 27 x 12 x H 38 cm