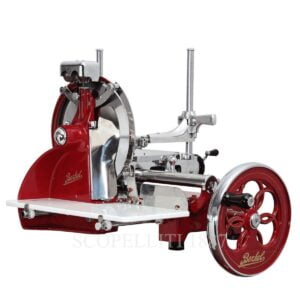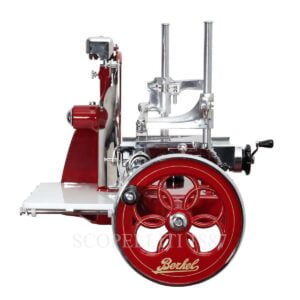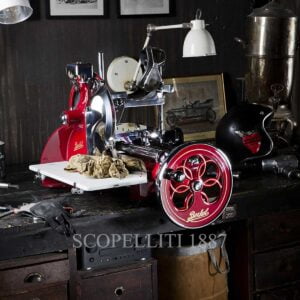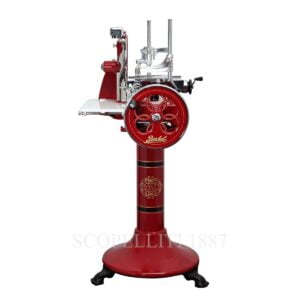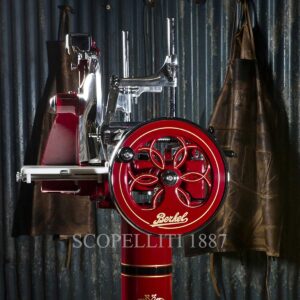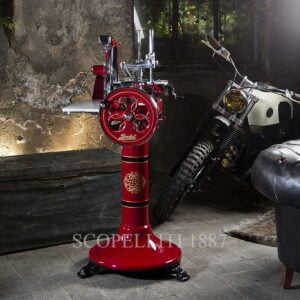 Berkel Volano P15 Meat Slicer Red
9.399,00€
Berkel P15 is the artisanal high-end flywheel meat slicer with a vintage design. Its small dimensions make it perfect for home use. It exploits today's technology and best materials.
Available on back-order
approx. 1-2 months delivery time. If you need same day shipping, please check here.

Discover our current promotions - Ask Danka

+39 391.345.6441
The new P15 flywheel meat slicer is a reproduction of the historic P model of the '40s and encompasses its perfect cut, unique craftsmanship, elegance, and tradition. Berkel rewrites its history.
Attention to detail, elegant design, and high-quality manufacturing ensure slicing excellence. The perfection of its chrome finishes and paints the harmony of its shapes and decors make it the perfect furnish for collectors.
P15 has a blade with a 285 mm diameter. It is available in 3 standard colours: red, black, and cream, or in a wide range of custom colours. Its accessories include a small pedestal, which enhances its shape, making it a true piece of vintage design.
Height 570 mm

Lenght 720 mm

Width 600 mm

Weight: 60 kg
Blade Diameter 285 mm

Cut Capacity Circle 180 mm

Cut Capacity Reptangular 210 x 180 mm

Max Thickness 0 – 3 mm
MANUAL FLYWHEEL SLICER
• Reproduction of the legendary model P from the '40s
• Small in size, takes up minimum space
• Flower flywheel
• High-gloss polished aluminium and stainless steel parts
• Very high quality cast iron structure
• White glass paste receiving tray and sliding meat table
• Meat table rapid advance mechanism and return system
• Slice thickness adjustment system
• Built-in sharpener with coordinated spring activation
• Meat table, blade cover, receiving tray and sharpener easily removed for cleaning