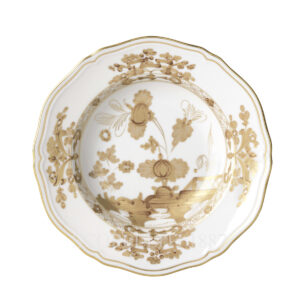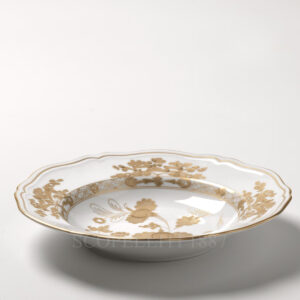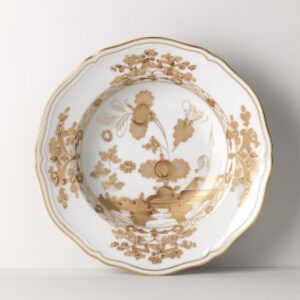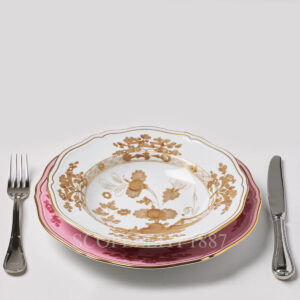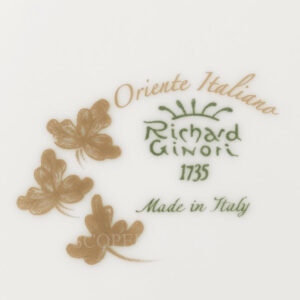 Ginori 1735 Soup Plate Oriente Italiano Aurum
Use coupon code: GOLD to get 6 % OFF this new collection!
Ginori porcelain Soup plate with Aurum decoration in pure gold. Oriente Italiano Gold Collection.
In stock
Shipping time: Same day shipping
180,00€
Ginori Soup Plate Oriente Italiano Aurum
Oriente Italiano Aurum soup plate is designed for refined mise en place, wrapped in the charm of magical atmospheres. It is made of fine porcelain that stands out for the prestigious ornament in hand-painted pure gold that evokes the flower of the Garofano (Carnation), a symbol of eternal harmony, already present in other Ginori 1735 collections. The tableware proposal is completed with the services of placeholders, flat and dessert dishes of the same line or in combination with the articles of Oriente Italiano, for a table with a strong personality. The Oriente Italiano Gold Collection enriches the proposal of the Florentine Maison also with furnishing accessories and perfume diffusers. Also available in the Rubrum version, with red and gold decoration, it decorates sophisticated environments with character.
Ginori Soup Plate Oriente Italiano Aurum details:
Brand: Ginori 1735
Collection: Oriente Italiano Aurum
Material: Porcelain
Colour: white and gold
Height: 4.4 cm
Diameter: 24 cm
Capacity: 298 ml
Weight: 480 g
Antico Doccia shape
Made in Italy
Handpainted
Gift box included
The Oriente Italiano Gold Collection is the maximum expression of trendy pieces: the precious materials used and the eclectic style of the collection make it the protagonist of every table, an expression of a unique and timeless lifestyle. This new collection gives full expression to the concept of expert craftsmanship, paying homage to Italian savoir-faire, and presents two new exquisite colourways: Aurum, in white, and Rubrum, in red, both hand-decorated with pure gold.