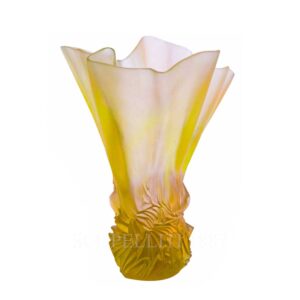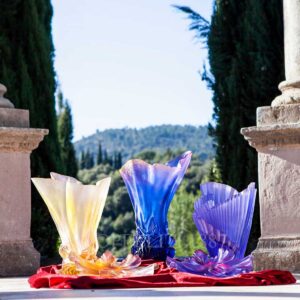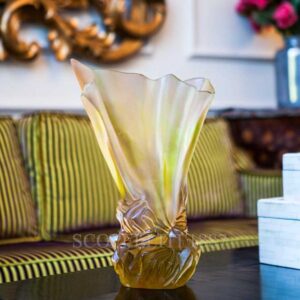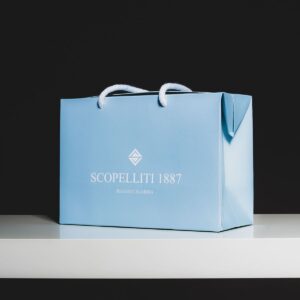 NEW Daum Croisiere Draped Vase Pink Green Numbered edition
€ 7.200,00
3% OFF with the coupon code DAUM3
Daum Croisiere Draped Vase Pink Green Numbered edition Large is an outstanding crystal creation perfect to become a colourful accent at your home.
Gift box included.
Size: H: 43 cm L: 31,5 cm W: 29,5 cm
Weight: 10,8 kg
Available on back-order
Approx. 1-3 months delivery time. If you need same day shipping, please check here.

Discover our current promotions - Ask Danka

+39 391.345.6441
The Croisière collection is the fruit of a dream, to bring together crystal paste and the finest silks Just as one could say of the Daum collections, the world of couture is closely linked to civilizations, to each era, and to each territory, its fabrics, its codes and styles, and its messages At the crossroads of tradition and modernity, the dresses can be considered as sculptors of the silhouette. The pieces in this collection have been modeled just like how couturiers work with fabrics and handle their needles to create a look, an expression.
Each Daum Crystal art work creation is signed with "Daum France" and has it's own individuality as they are hand-made. Every piece is unique, no two Daum art pieces are exactly alike.
You may also like…
Lladró

€

300,00

LLADRO DON QUIXOTE porcelain figurine with gift box.
Sculptor: Salvador Furió, Release year 1994.
Size: 30 x 10 cm

Don Quixote is a classic character in the world of literature and the book published in 1806 is widely considered to be the most influential work of literature written during the time period known as the Spanish Golden Age.
Lladro is based in Spain so it certainly makes sense the reproduction of Don Quixote figurines.
Indeed over the years a number of porcelain representations of this classic fictional character have been produced. read more...

This beautiful, vintage, gloss glazed Lladro figurine stands up proud over his body armour and books with his delicate sword blade touching the ground so as to mark his territory.
The details of the facial expression are unique topped by the soft hat.
A stunning centre piece which will enrich any Home.