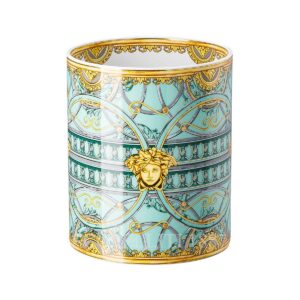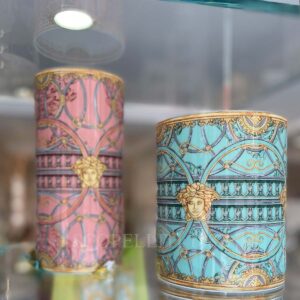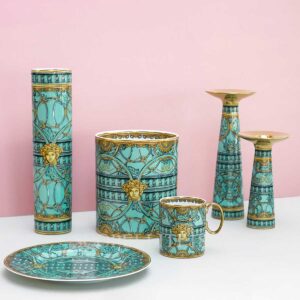 Versace Vase 18 cm Scala Palazzo Green
Use the coupon code: GIFTforYOU
Versace Vase 18 cm Scala Palazzo Green is perfect for those who wish to bring home the magnificence of gold, green and rose combined to the sophistication of the Versace patterns. Gift box included. Height: 18 cm
In stock
Shipping time: Same day shipping
439,00€
"La Scala del Palazzo" fine porcelain dinnerware collection from Rosenthal meets Versace collection tooks its ispiration from swirling metallic spirals that ascends into the Versace home that is the Milanese palazzo in Via Gesù. Versace is an icon for extraordinary craftsmanship and exquisite details, while Rosenthal is widely known for a modern design and excellence in the field of tableware.
When you enter the Palace, a scenic marble staircase catches your eyes.  A central circular element gives a first sighting into the intimacy beyond it as a little hint at what happens behind closed doors. The architectural style of the collection is enriched by an elegant green and pastel rose palette, reminiscent of the classical Italian palazzi facades. Its contemporary shape embraces expertly crafted coupe plates for the very first time.
La Scala del Palazzo is unique and with a strong personality.