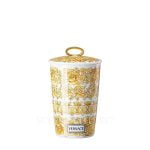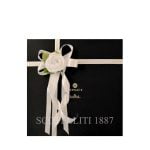 Versace Scented Candle Medusa Rhapsody
€ 243,00
Versace Scented Candle Medusa Rhapsody in finest porcelain is a table light with scented wax. Gift box included.
Available on back-order
approx. 1 - 4 weeks delivery time

Discover our current promotions - Ask Danka

+39 391.345.6441
The new Medusa Rhapsody tableware collection is a harmonious amalgam of detail. One with the ready-to-wear collection, the porcelain dinnerware and clothing draw inspiration from each other resulting in a remarkably modern, yet intrinsically Versace collection.
The Medusa and baroque flowers are painted in opulent golden shades, while key items feature the Versace 90s Vintage logo label.