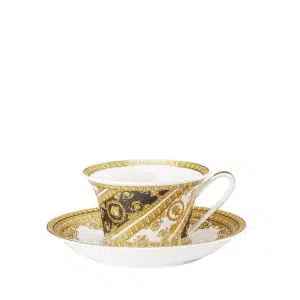 Versace I love Baroque black 5 Piece Place Setting
568,00€
Use the coupon code: GIFTforYOU
Versace I love Baroque 5-Piece Place Setting is perfect for those who wish to bring home the magnificence of gold and black Versace patterns. Gift box included.
Versace I love Baroque 5-Piece Place Setting includes 1 each of:
Dinner Plate – Ø 27 cm
Dessert/Salad Plate – Ø 22 cm
Bread & Butter/Side Plate – Ø 18 cm
Teacup –  Capacity: 220 ml
Tea Saucer
In stock
Same day shipping
I love Baroque dinnerware collection brings a regal touch of style to the table, highlighted by recurrent neoclassic symbols interchanging in geometric circle bands.
The charm of glamorous past epochs blends with the opulent Baroque print, urns, laurels and ornaments and the modern colours like mat black, red and accents of gold. The wonderful Medusa head icon is queen of the collection enshrined by neoclassic designs.