NEW Venini Fazzoletto Vase Magenta Transparent Sandblasted 700.02 Medium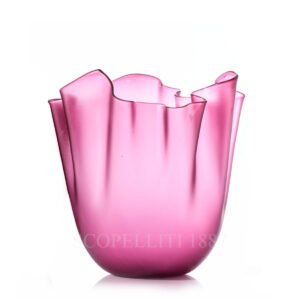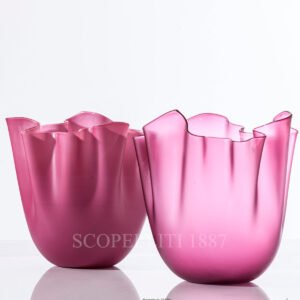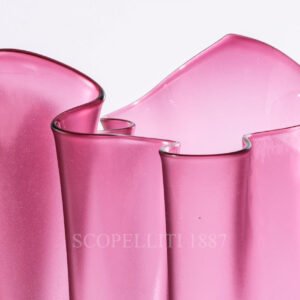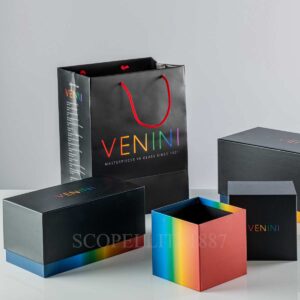 NEW Venini Fazzoletto Vase Magenta Transparent Sandblasted 700.02 Medium
Enjoy 15 % OFF on all VENINI vases!
Venini Fazzoletto Vase Transparent Sandblasted Pink Magenta 700.02 NEW in mouth-blown Murano glass is an absolute Venini Novelty of 2023.
A handmade vase Fazzoletto has an external and internal part made in a brand new magenta transparent colour. Gift box included.
New Collection 2023.
Designed by Fulvio Bianconi and Paolo Venni in 1948. Signed at base. Murano glass. Wipe clean with soft dry cloth. Made in Italy.
In stock
Shipping time: Same day shipping
Venini 2023's new Magenta color will only be produced until April 2023.
The an iconic vase Fazzoletto of Venini for over 50 years became an exhibit in various museums. Using a highly suggestive technique, the master glass blower gives the still soft glass the form of an upturned handkerchief.
The technical part of Opalino from the manufacture of milk glass, an opaque white glass, invented in Murano in the mid-fifteenth century to imitate the first porcelain all the rage in Europe. It is obtained by superimposing "encasing" the milk glass with a glass or more thin transparent and glass, getting beautiful objects with intense colors and bright.
Size:
Ø 20 cm,
Height: 24 cm (7.87″D – 9,44″H)
Weight: 1.2 kg