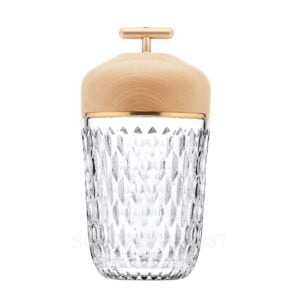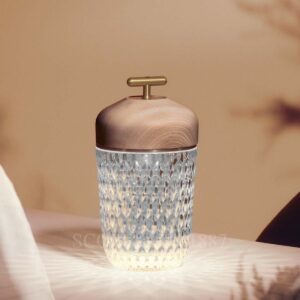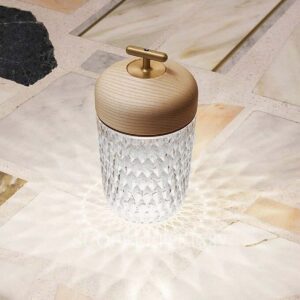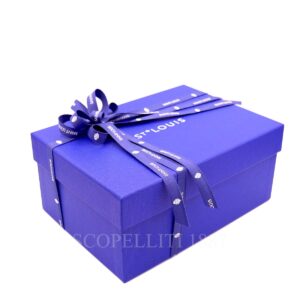 Saint Louis Folia portable lamp wood clear ash clear crystal
Free Worldwide Delivery
This splendid new Saint Louis Folia portable lamp is made of crystal, clear ash and brushed brass. It can be used as a table lamp, desk lamp, for the terrace or the boat and fits in all styles of decoration thanks to its contemporary design. The crystal, cut with bevels arranged in staggered rows creates a surprising geometric pattern, multiplied by the light.
Folia handheld flashlight is a self-contained, mobile, wireless LED light that can be used indoors and outdoors. It is rechargeable and has an autonomy of up to 25 hours when used at low intensity.
Dimensions: L 15.4cm x H 29.0cm x P 15.4cm
Available on back-order
Some items may be subject to extended delivery times. Please, contact us before order.

Discover our current promotions - Ask Danka

+39 391.345.6441
Folia lamp features a sensitive button that switches between three lighting intensities. The portable lamp charges on a 12V power supply and can go from 5-25 hours between charges, depending on the lighting intensity. It is compatible with a halogen light (included) or a dimmable LED light (not included).
Folia lighting fixtures are signed by designer Noé Duchaufour-Lawrance for the prestigious French crystal house Saint-Louis.
The cross-functional Folia collection was designed as a tribute to the forest that surrounds the Saint-Louis factory. It is the result of the meeting of two noble materials: crystal and wood. Each piece is decorated with a cut in geometric and organic shapes, like a tribute to the leaf of Moselle wood.
The house Saint-Louis was founded in 1586 in the valley of Müntzthal in Moselle. It is the oldest crystal factory in France. Every day, the manufacture signs mouth-blown crystal pieces, cut and decorated by hand by the craftsmen of the crystal factory. These are master glassmakers and master cutters who are among the Meilleurs Ouvriers de France.
L 15.4cm x H 29.0cm x P 15.4cm