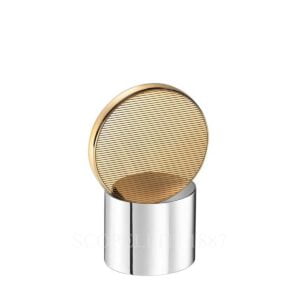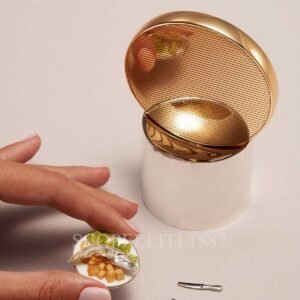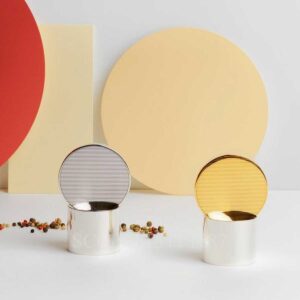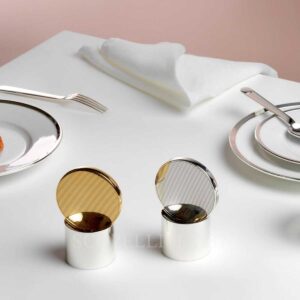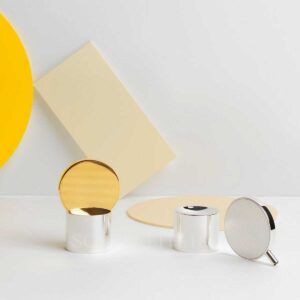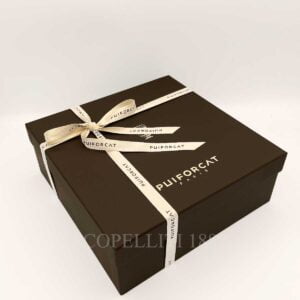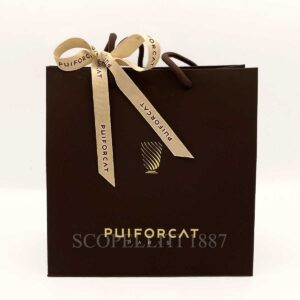 Puiforcat Pepper Mill Houlgate Gold and Sterling Silver
Previous lowest price was 2.236,00€.
Take advantage of our promotion and use the coupon code: EnjoyPUIFORCAT
Puiforcat Pepper Mill Houlgate Gold and Sterling Silver is a luxurious item made with a gold immersion that will add a functional yet distinctly aesthetic flair to any table.
Gift box included.
Height: 2,2 in (5,588 cm) , Ø 4,34 in (11,0236 cm)
Capacity: : 0,5 OZ
Designed by Grégoire de Lafforest.
Available on back-order
approx. 1-2 months delivery time. If you need same day shipping, please check here.
The Puiforcat Houlgate is handmade by the supreme craftsmen  in sterling silver, their pure, mirror-polished silhouettes grace the table with a touch of shimmering light.
The Peugeot® mechanisms, ingenious in their shape and function, combine an innovative concept with a feat of technical engineering. The spice contained inside is ground by rotating the vertical disk, connected to the base by a shaft that fits perfectly into the mechanism.
The receptacle is filled from the top by removing the disk and pouring the spice into the aperture. The concave, funnellike design on the top of the base makes for easy refilling.
The interior of the reservoir is coated to preserve the condiments. The all-silver version is intended for salt, while the goldplated model grinds peppercorns.
It is better to use dry spices for a better efficiency of the mechanism, and more specifically:
Pepper mill Black, White, Green, or Red pepper (ex Sarawak, Penja Malabar, Kampot or mixtures 5 berries, 3 peppers)
Salt Mill Dry Salts (Pink Himalayan Salt, Blue Persian Salt, Diamond Cashmere Salt, Dried Guérande Salt)