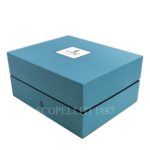 Lladró Beautiful Catrina Porcelain Figurine
$ 3.580,61
20% OFF with the coupon code CATRINA20
LLADRO Limited edition Mexican Bella Catrina figurine in black gloss finish porcelain, adorned with three handmade flowers.
Size: 31 x 19 cm (12.2" x 7.48")
Your figurine will be wrapped especially without any additional cost and you can also include a personalized gift note.
FREE Worldwide Shipping
Available on back-order
approx. 1 - 4 weeks delivery time

Discover our current promotions - Ask Danka

+39 391.345.6441
The people of Mexico have a special relationship with death, to the point that it is part of the culture and daily life of this North American country. The Bella Catrina, conceived in the imagination of the artist Jose Guadalupe Posada, has become part of this rich, popular iconography. This limited edition is richly decorated with colourful motifs characteristic of Mexican tradition and three spectacular flowers carefully modelled, petal by petal. In addition, there is a brass earring with two micron 18K gold plating and decorated with porcelain. The antique golden base is inseparably attached to the piece.
Details:
Insurance included: Yes
Finished: Gloss
Height (cm) 31
Width (cm) 19
Length (cm) 15
Porcelain Type: Gloss
Sculptor: Raul Rubio
Limited Serie: Yes
Limited Serie Units: 500