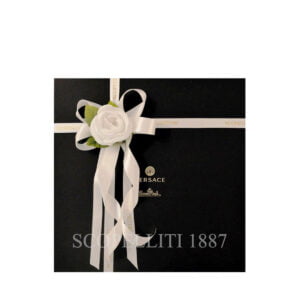 Versace Box Deep Blue Gypsy Medusa Head
$ 144,60
Versace Box Deep Blue Gypsy Medusa Head in finest porcelain. Gift box included.
Size: 10cm  x 8cm
Height: 7,5 cm
Available on back-order
Note that delivery before Christmas is not guaranteed. Please, check only prompt delivery items.

Discover our current promotions - Ask Danka

+39 391.345.6441
Versace Gypsy is a very  extravagant and unusual collection of boxes in finest porcelain. Gypsy consists of porcelain that are closed with a lid, which is designed as a relief in the form of a Medusa's head. These small home accessories can be used to keep jewels or some personal accessories.
Gypsy boxes are available in varoius colours like, black, white, pink, blue and deep blue, gold and glossy silver.