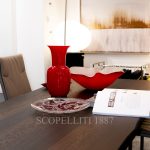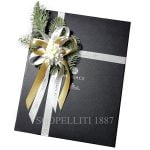 Versace Round Dish 36 cm Crystal Arabesque
$ 214,28
The Versace "Arabesque" crystal dish comes nested in its refined gift box.
The dish is a wonderful centre piece which will enrich any table-top.
The article features a unique style, a blissful combination of engraved elegance and light-heartedness which expresses the joy of life.
The Greek key designs contour artistically the crystal border and encase the delicate central flowing foliate patterns, with the effect of playful transparencies.
In stock
Same day delivery

Discover our current promotions - Ask Danka

+39 391.345.6441
This glamorous Oriental glassware design harmoniously interplays with opulent and refined transparencies featuring magnificent and impressive branches of acanthus leaves topped by Greek freezes.
The crystal collection, a true expression of the pure love of life, includes giftware in the form of vases, coasters and square dishes and bowls to simply display or use with their soft lines and full bodies.
The crystal range complements classically decorated and contemporary styled homes and ideally combines with tableware from the Arabesque Gold ranges and the Arabesque amber or crystal clear wine glass collections.
Often seen in stately homes and present at formal occasions such as grand balls, galas and dinner parties, the crystal glassware has become heavily associated with grandeur and elegance and never disappoints.
The dazzling lights which reflect in the crystal will overwhelm your homes with magnificent luxury.
You may also like…
Venini

$

1.137,22

Venini Large Bowl in Murano blown and hand-crafted red/gray opal glass.
1 pc – Ø 55 cm, h 18,5 cm (21,65″D – 7,28″H)

Hand-blown glass bowl with two overlapping colours. Its hand making is shown by the fold of the upper edge and its colours shade. Its name, Narciso, conveys the image of the flowers corolla which are always unique and different from one another. read more...

The technical part of Opalino from the manufacture of milk glass, an opaque white glass, invented in Murano in the mid-fifteenth century to imitate the first porcelain all the rage in Europe. It is obtained by superimposing "encasing" the milk glass with a glass or more thin transparent and d glass, getting beautiful objects with intense colors and bright. To embellish glass with soft colors are included on the entire surface of leaves of gold and silver objects getting gorgeous "Golden Armed."

Venini

$

808,03

Venini "Opalino" Vase Murano Glass gift-wrapped color red
1 pc – Ø 17 cm, h 36 cm (6.69″D – 14.17″H)

Opalino handmade blown glass vases feature unique and striking colors and pure, essential lines. Design by Venini 1932. read more...

Available in 3 sizes: 7 diam x 14 h in. / 8 diam x 16.5 h in. / 5.5 diam x 12 h in. Several standard colors available and limited edition colors.