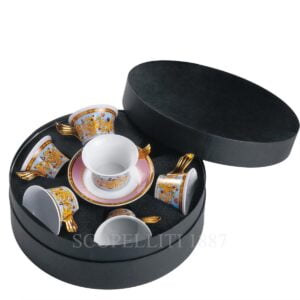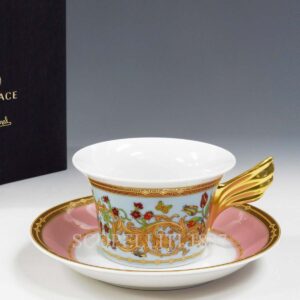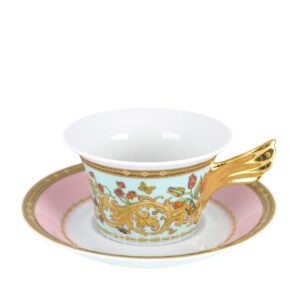 Versace gift set of 6 tea cups and saucers Le Jardin de Versace
1.590,00€
Use the coupon code: GIFTforYOU
Versace 6 Tea Cup and Saucer Gift Box Le Jardin de Versace.
FREE WOLDWIDE DELIVERY
The Versace Le Jardin de Versace Tea Set comes in an elegant gift box. The exquisite floral band is enclosed by a fine golden Greek key motif dotted with dainty stylized flowers. The playfully combination symbolise a summer symphony in an enchanted garden.
An exclusive design, the fascination of distant glamorous epochs and elegance and refinement – this is the world of Versace.
Available on back-order
approx. 1-2 months delivery time. If you need same day shipping, please check here.
Gianni Versace's artistic influence in the world of fashion was virtually unparalleled. Rosenthal preserves the legacy of Gianni Versace in home décor.
Versace by Rosenthal is an extraordinary collection resulting in high-quality tableware and giftware in contemporary designs.
Le Jardin de Versace is an enchanting fairy tale garden, a romantic porcelain dream in soft pastel shades, and an abundant diversity of blossoms, berries, ladybirds, and butterflies that delicately rest on the intertwined golden branches.
This pattern perfectly evokes springtime joy with its luxurious Louis XVI-style gardens, the delicate turquoise and deep red, lots of gold, and different shades of blue and green.
The ornaments hand painted with delicate golden accents combine to playfully symbolize a perfect summer symphony and create a perfect harmony that has the power to enchant.
Each collection piece has its character.
There are plates where the butterfly dominates at the center of a golden twine resting on a pastel shade of pink. There are also smaller plates, ideal as wedding favors. Moreover, the golden branches border, giving greater emphasis to the colored butterflies which flutter over the sky-blue center.