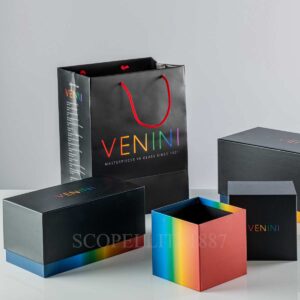 Venini Special Unique Monofiore Balloton Vase large sapphire amber
€ 622,00
5% OFF with the coupon code VENINI5
Venini Single Flower x-large vase "Monofiore Balloton" sapphire/amber thread. Unique in the world!
There is only 1 example of this size and color combination.
1 pc – Ø 21,5 cm, h 24,5 cm (8.46″D – 9.64″H)
Out of stock
Handmade in Italy of green mouth-blown Murano glass, Venini's Monofiori Balloton small vase features a graduated diamond-pattern finished with an amber glass thread.
Handmade. Designed by Paolo Venini. Signed at base.
Murano glass. Wipe clean with soft dry cloth. Made in Italy.
Blown handmade Murano glass, realized with the traditional tecnique called "Balloton", with a glass thread, applied when hot, on the upper part of the object.
Choosing Venini for You or as a present, means to be aware of belonging to a world where preciousness is directly connected to the brand itself.
Venini's exclusives creations, refined details, complicated techniques and attention for the finishing touches, communicate luxury, representing the purest beauty of glass art.